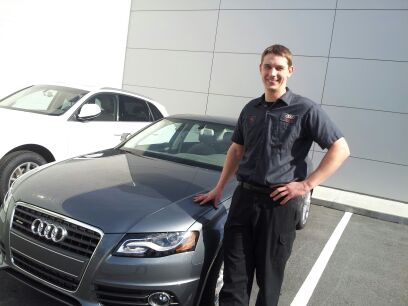 Doug Stewart - Shop Foremen at New River Auto Mall

Doug Stewart - Shop Foremen at New River Auto Mall
A native of Philadelphia, Doug has been employed with the dealerships at the New River Auto Mall for three years. He has worked with Volkswagen and Audi vehicles since 2003, and was a certified Humvee technician with the U.S. Marine Corps.
The ranking of U.S. Audi technicians is based on Audi's "Fix It Right the First Time" standard, as well as Customer Satisfaction Index (CSI) scores.
"We strive to exceed our customers' expectations, and we maintain high levels of excellence in our shop on a daily basis," said Doug.
"We couldn't be more proud to have him as part of our team, and we are honored to acknowledge Doug for this incredible achievement," said Fixed Operations Manager Bryan Brown.
As for Doug, he is an active member of Audi Club North America and, is an avid motor-sport enthusiast. When it comes to his work, Doug's outlook is simple, "We take pride in servicing and caring for our customers' vehicles."
New River Auto Mall is located on U.S. Highway 278 approximately five miles east of Interstate I-95, Exit 8 in Jasper County, just west of Sun City and the University of South Carolina-Beaufort campus. Launched in 2002, New River Auto Mall encompasses 42 acres. It currently accommodates 10 dealerships: Audi Hilton Head, Hilton Head Chrysler Jeep Dodge Ram, Hilton Head Hyundai, Jaguar Land Rover Hilton Head, Infiniti of Hilton Head, Hilton Head Mazda, Hilton Head Nissan, Porsche of Hilton Head, Subaru of Hilton Head and Hilton Head Volkswagen.
The dealerships at the New River Auto Mall are owned by retail auto industry veterans Warner Peacock and Don Mealey, professional baseball legend Ken Griffey, Jr., and attorneys Greg Humphries and Jay Brennan. The organization is known for its quality service and broad selection of vehicles.