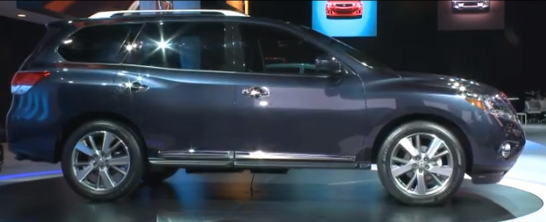 Hilton Head Nissan is excited to report that, the 2012 North American International Auto Show kicked off Monday, with Nissan debuting its Pathfinder Concept and all-electric e-NV200 Concept.

The Detroit show will see some 50 new products unveiled overall and over 40 exhibitors, while Nissan's two concept vehicles underscored a wave of new products in the pipeline and its Zero Emissions leadership.

CEO Carlos Ghosn said the return to the Detroit show was indicative of the sales strength Nissan saw in 2011.

"The fact that we are returning today to the Detroit motor show means that we are on the offensive," Ghosn said.

"The crisis that has been created by the collapse of Lehman Brothers in October 2008 is way behind us. We have erased most of the consequences of this as an industry. Now this industry is growing. We believe we can contribute a lot to its growth. And our presence today with a lot of innovation in Detroit means we are ready for what's coming."

The four-wheel drive Pathfinder's Continuously Variable Transmission is expected to provide a 25% increase in fuel economy when U.S. sales begin in fall.

Al Castignetti, vice president of Sales and Marketing for Nissan North America, says the fourth-generation Pathfinder will reinvent the 25-year old line.

"I think that Pathfinder needs to get back to its original sales volumes when we had the old generation," he said. "Quite frankly, we are looking to triple, maybe even quadruple the sales of the Pathfinder with this generation."

The e-NV200 Concept is targeted for businesses and families, and is expected to energize the compact van market when mass production begins by 2014.

In the show's run, some 5,000 journalists from over 50 countries are expected to attend the Detroit event, while public turnout is seen climbing back to pre-crisis levels.
To reserve your Pathfinder or e-NV200 click here.
About Hilton Head Nissan:
Hilton Head Nissan is a part of the New River Auto Mall located on U.S. Highway 278 approximately five miles east of Interstate I-95, Exit 8 in Jasper County, just west of Sun City and the University of South Carolina-Beaufort campus. Launched in 2002, New River Auto Mall encompasses 42 acres. It currently accommodates 10 dealerships: Audi Hilton Head, Hilton Head Chrysler Jeep Dodge Ram, Hilton Head Hyundai, Jaguar Land Rover Hilton Head, Infiniti of Hilton Head, Hilton Head Mazda, Hilton Head Nissan, Porsche of Hilton Head, Subaru of Hilton Head and Hilton Head Volkswagen.

The dealerships at the New River Auto Mall are owned by retail auto industry veterans Warner Peacock and Don Mealey, professional baseball legend Ken Griffey, Jr., and attorneys Greg Humphries and Jay Brennan. The organization is known for its quality service and broad
selection of vehicles.
Press Release Promoted By Automotive Advertising.