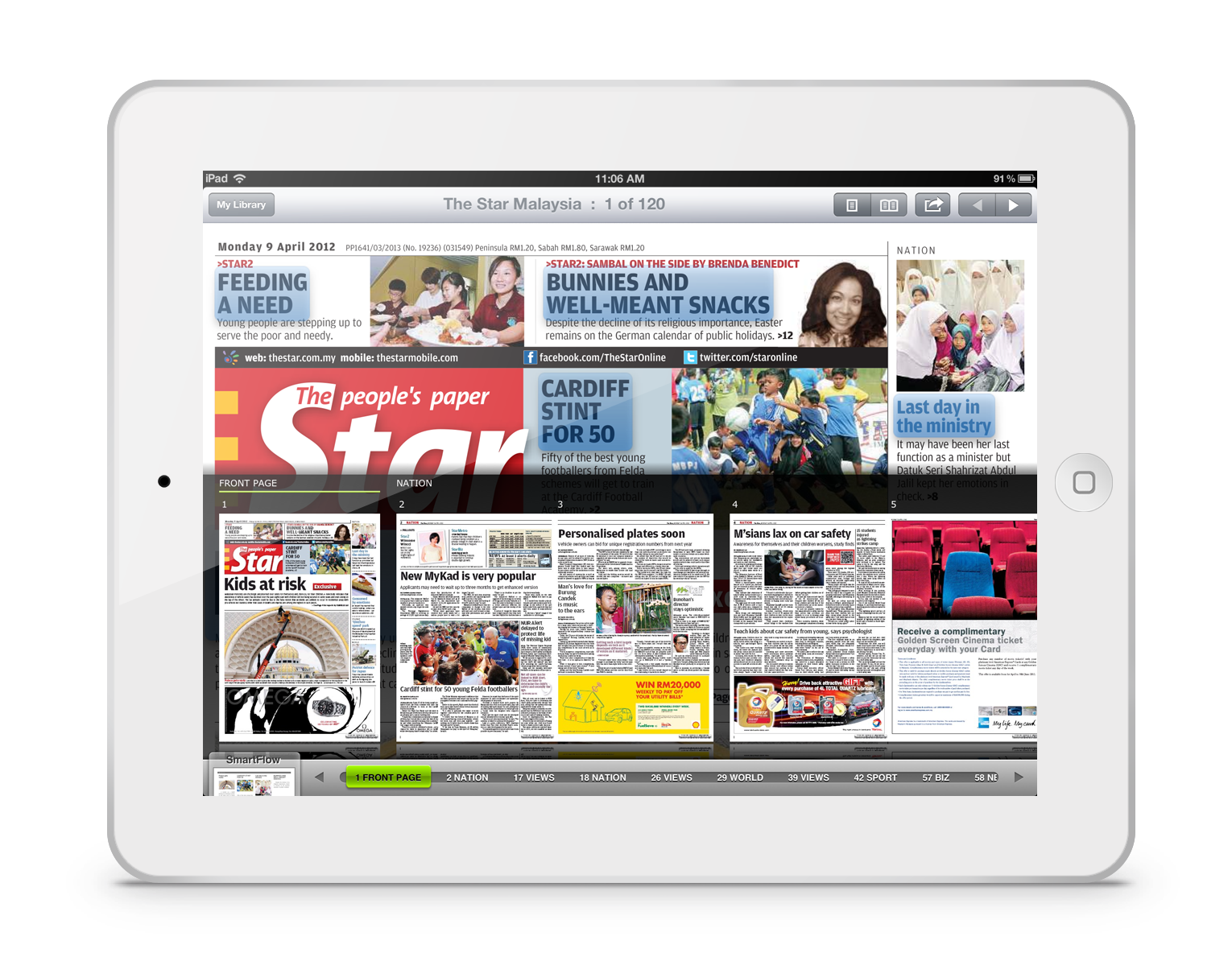 BALI, INDONESIA [Publish Asia]: NewspaperDirect Inc., the world leader in multichannel newspaper and magazine content distribution, has partnered with The Star Malaysia to launch an enhanced digital replica version of The Star, Malaysia's largest-circulation daily tabloid. The Star ePaper, which went live on April 1, 2012, offers the paper's subscribers new tablet and online editions, both powered by NewspaperDirect's advanced SmartEdition and PressReader technologies.
"Expanding the distribution of Malaysia's favorite English newspaper to reach readers across a complete range of channels and devices is the surest way to engage with tomorrow's readers and provide today's subscribers with a wide range of options," said Alex Kroogman, CEO of NewspaperDirect. "The Star is setting a benchmark to which other publishers should aspire."
The new, digital replica editions deliver 100 percent of the content from the printed publication, including the Main Paper, StarBiz, Star2, and Star Metro. The Star ePaper gives subscribers two new ways to read the paper: online via the Web or downloaded to a PC, smartphone (iPhone and Android), or tablet (iPad and Samsung Galaxy Tab). Advanced digital features of the Star ePaper include:
Instant switching between Replica/Page View and Article View
Engaging, cover-to-cover reading by simply swiping from page to page
Share stories on Facebook and Twitter or via e-mail
A "Listen" option to hear articles read aloud
Convenient zooming of text and enlargement of articles and photos
"Smartphones and tablets provide a fantastic growth opportunity for The Star by enabling us to give our readers the content they want, the way they want it, where they want it," said Wong Siah Ping, chief operating officer, digital business. "We chose NewspaperDirect as our partner as they have the technology and worldwide distribution channels to reach our existing and new mobile subscribers, wherever they are."
About NewspaperDirect Inc.
NewspaperDirect delivers the world's newspapers and magazines to millions of readers the way they want to receive them — in print, online, or on their mobile device, tablet or eReader — wherever they live, travel, work or play. With the most innovative digital publishing technology in the industry and the only zero operational-cost business model, NewspaperDirect is recognized as the world leader in multichannel content distribution and monetization, and is the chosen partner of more than 2,000 publishers from 95 countries.