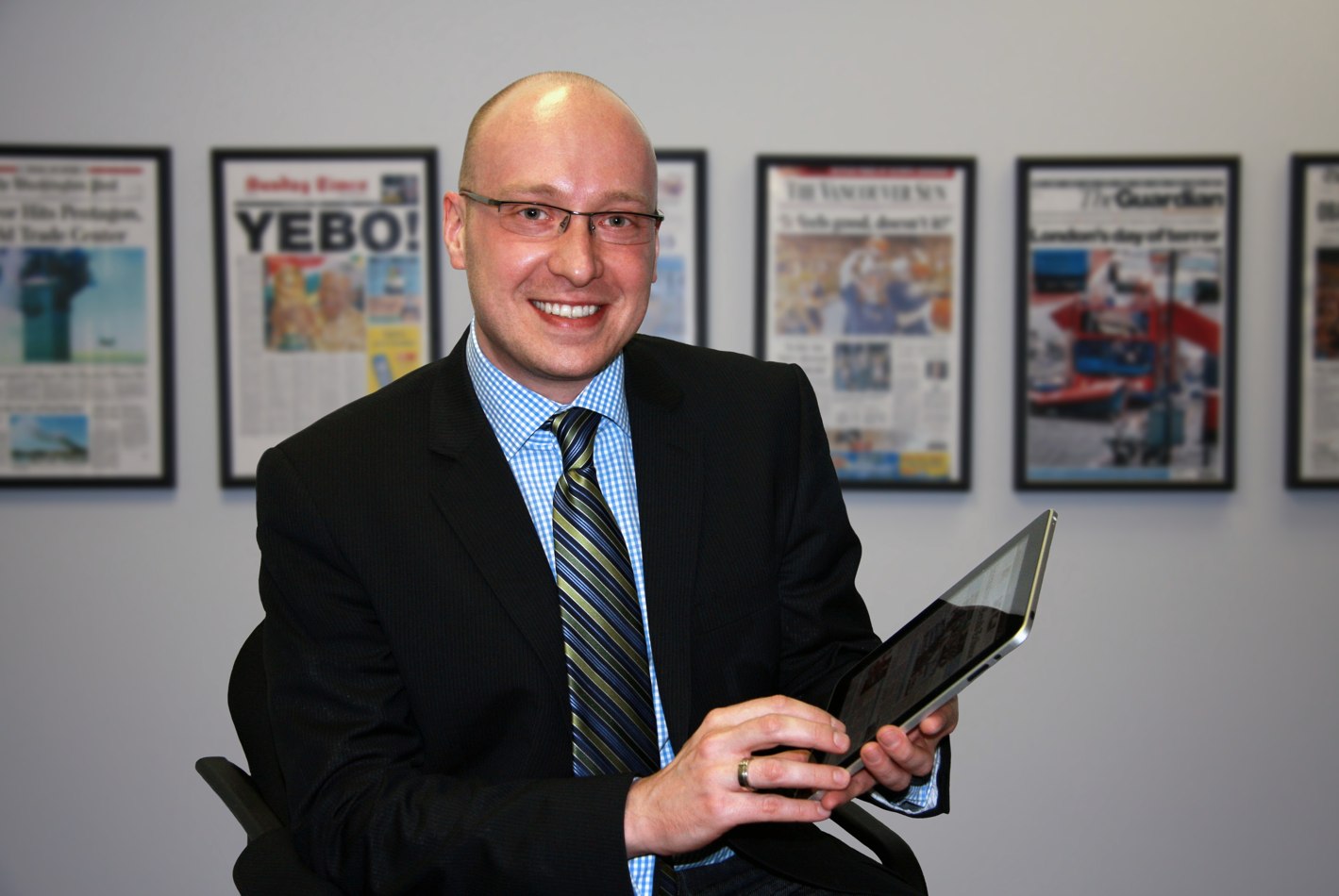 Leader in multichannel distribution of digital newspapers joins executives from newspaper, magazine and book publishing industries to discuss roadmaps for publishers weighing pros and cons of HTML5 versus native applications for mobile devices and tablets.
VANCOUVER: Nikolay Malyarov of NewspaperDirect is a featured panelist at this year's Publishing Expo, the UK's premier multi-platform publishing show. Publishing Expo, which takes place February 28-29, 2012 in London, features a roster of key players from the media, advertising and marketing sectors.
The panel, titled "Three Way Tag: Apps vs. E-Books vs. HTML5," and moderated by Graham Duffill, managing director of The Digital Publishing Company, will discuss the challenge publishers face as they develop and manage distribution of digital newspapers, magazines and books across several mobile platforms. The panelists will examine the choices publishers face as they consider developing either 'native' apps or HTML5-based Web apps, and will offer opinions on which is the best long-term strategy for different types of publishers.
Mr. Malyarov is a recognized expert in the formulation of effective cross-platform and multichannel strategies for leading publishers around the world. As VP of publishing and legal affairs at NewspaperDirect, he is responsible for growing NewspaperDirect's worldwide community of publishing partners, helping them expand their market reach and increase revenues, while meeting their unique business objectives. He will offer his views on the pros and cons of both native apps and HTML5-based approaches, and assess their relative merits in the contexts of both user experience and technology maturity.
Panelists:
Darin Brockman, CEO, Firsty Group
Nikolay Malyarov, VP Publishing and Legal Affairs, Newspaper Direct
Marcus Grimm, Marketing Director, Nxtbook
Shaun Barriball, CEO and Founder, Mobile IQ
Moderator: Graham Duffill, MD, Digital Publishing Company
Event/panel details:
Tuesday, February 28, 2012, 12:20 p.m.
Publishing Expo 2012
Earls Court 2, London
About NewspaperDirect Inc.
NewspaperDirect delivers the world's newspapers and magazines to millions of readers the way they want to receive them — in print, online, or on their mobile device, tablet or eReader — wherever they live, travel, work or play. With the most innovative digital publishing technology in the industry and the only zero operational-cost business model, NewspaperDirect is recognized as the world leader in multichannel content distribution and monetization, and is the chosen partner of more than 2,000 publishers from 95 countries. Follow us on Facebook.com/pressreader, Twitter @pressdisplay, and YouTube.com/user/pressdisplay.