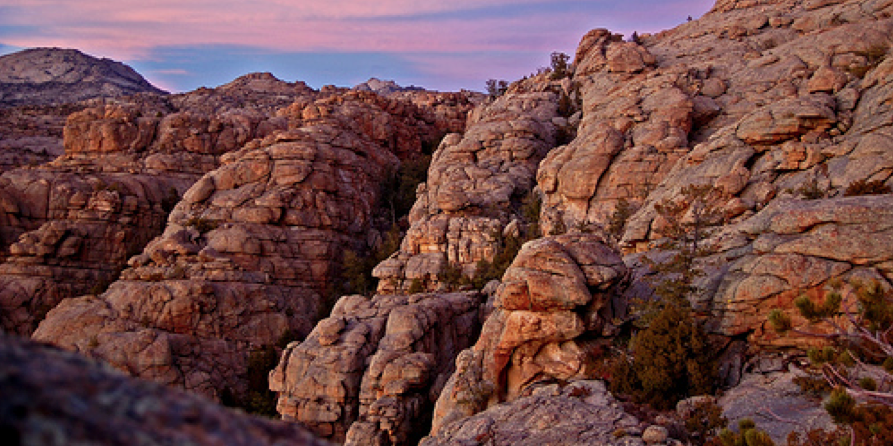 LANDER, WY—As the deadline for public comment on the new Resource Management Plan (RMP) for the Lander Field Office of the Bureau of Land Management (BLM) draws near, the National Outdoor Leadership School (NOLS) encourages Fremont County residents to join it in voicing opinions.
The end of the public comment period for the draft RMP, which outlines future management options for the 2.5 million acres of BLM surface land and 2.7 million acres of BLM mineral estate in central Wyoming, is this Friday, Jan. 20.
The RMP's management prescriptions have potential impacts to popular Lander-area destinations such as Johnny Behind the Rocks, the Beaver Creek Ski Area, and the Bus at Baldwin Creek, and NOLS operating locations like Split Rock, Sinks Canyon, Sweetwater Canyon, and Red Canyon, where its new Wilderness Medicine Institute is currently being constructed.
The Lander BLM has developed a range of alternatives to the current RMP (Alternative A). Alternative B outlines the most resource protection of the options. Alternative C, on the other hand, prescribes the most intensive resource utilization. Alternative D is a compromise between Alternatives B and C and is the preferred option for the BLM. The complete RMP can be reviewed at http://www.blm.gov/wy/st/en/programs/Planning/rmps/lander.html.
NOLS, which has submitted its comments urging planners to preserve the region's recreational experience, encourages residents to take the time to comment on the draft RMP. The RMP has the potential to drastically impact the region's access to world-class recreation, and public comments are an integral part of the decision process. The school offered specific and summarized information regarding the draft RMP to help inform the area's outdoors-people:
Residents who enjoy climbing at Sweetwater Rocks (Split Rock and Lankin Dome) may want to comment on the BLM's preference to limit oil and gas leasing in that area. They should also comment on the National Historic Trails recommendation, which prescribes a five-mile buffer on each side of the trails, preventing surface occupancy or controlled surface use with visual impacts, in Alternative D. This condition encompasses the Sweetwater Rocks area.
Johnny Behind the Rocks: Mountain bikers, trail runners, horseback riders, and hikers who enjoy use of this area will want to provide input on management here, as the BLM's preferred option is to close it to motorized use and restrict mechanized use (bikes, etc.) to existing trails.
Sinks Canyon: BLM land in Sinks Canyon is adjacent to State Park and U.S. Forest Service land, and those who enjoy recreating in this area will want to weigh in on management direction that would keep the area closed to motorized use (excluding county roads, highway, and private roads) and would enhance the area for climbing and hiking opportunities. These provisions are included in Alternatives D and B.
The Bus at Baldwin Creek: Mountain bikers, hikers, and trail runners may want to comment on the planned development of an informational kiosk, implementing closure to motorized use, and continued use of mechanized travel on existing roads and trails, which fall under Alternative D.
Comments can be submitted via the BLM website, an email to BLM_WY_LRMP_WYMail@blm.gov, or mail to: Lander Field Office, Attn: RMP Project Manager, 1335 Main Street, Lander, WY 82520
About NOLS
Founded in 1965 by legendary mountaineer Paul Petzoldt, NOLS is the leader in wilderness education, providing awe-inspiring, transformative experiences to more than 15,000 students each year. These students, ages 14 to 70, learn in the wildest and most remote classrooms worldwide—from the Amazon rain forest, to rugged peaks in the Himalaya, to Alaskan glaciers and Arctic tundra. Graduates are active leaders with lifelong environmental ethics and outdoor skills. NOLS also offers customized courses through NOLS Professional Training, and the Wilderness Medicine Institute of NOLS is the leading teacher of wilderness medicine worldwide. For more information, call (800) 710-NOLS (6657) or visit www.nols.edu.