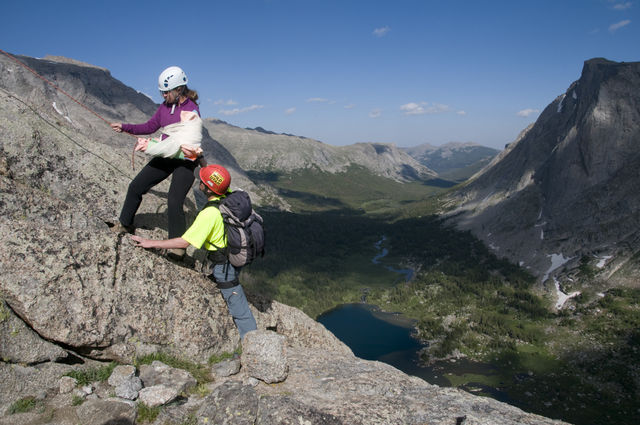 NOLS Wilderness Medicine Institute (WMI) is pleased to announce its California Wilderness Emergency Medical Technician (WEMT) program has a new home near Mt. Shasta at the College of the Siskiyous.
The College of the Siskiyous is home to established programs for paramedics, EMTs, and wildland fire fighters.
"We feel it is a very good match," said WMI Special Programs Manager Gates Richards. "The College of the Siskiyous and WMI share similar desired outcomes for emergency and wilderness medicine education, and they are excited to have us bring our WEMT program on campus. We will have the ability to easily transition from accessible urban EMT resources and an excellent indoor classroom right into local wilderness resources."
A multi-year agreement was signed with the College of Siskiyous to host WEMT courses. WMI's WEMT courses are full immersion intensive training. WMI instructors have broad experience in both urban and wilderness medicine and are able to integrate both curricula for a wide range of students. WMI courses are demanding but rewarding; students leave prepared to deal with emergencies no matter where they happen.
The first WEMT courses in Mt. Shasta will be held this summer.
Founded in 1965 by legendary mountaineer Paul Petzoldt, NOLS is the leader in wilderness education, providing awe-inspiring, transformative experiences to more than 15,000 students each year not only through its field courses, but also through the NOLS Wilderness Medicine Institute, which is the leading teacher of wilderness medicine worldwide, and through NOLS Professional Training, which offers customized courses. Students on NOLS field courses, ages 14 to 70, learn in the wildest and most remote classrooms worldwide—from the Amazon rain forest, to rugged peaks in the Himalaya, to Alaskan glaciers and Arctic tundra. Graduates are active leaders with lifelong environmental ethics and outdoor skills. For more information, call (800) 710-NOLS (6657) or visit www.nols.edu.
###