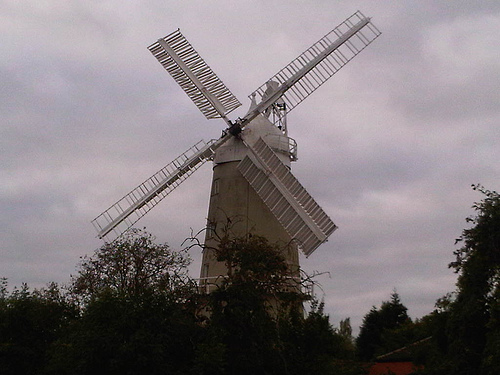 It was sad news indeed to learn that the remaining sail of Norfolk's last commercial flour mill has been removed. The sail, at Denver Mill, near Downham Market, was taken away on 13th January 2012 for repairs.
Commenting on the situation, leaseholder Mark Able told BBC News: "We'll get her turning again, but it's tragic when you see her like this. Poor old thing, she's lost her dignity."
Windmills – even if they aren't functioning – still look so great dotted around the British countryside; they are so much more pleasing to the eye than electricity pylons and wind turbines.
Budding young artists will love to make and decorate their own windmills. Arts and crafts company Baker Ross has some marvellous Make-your-own windmill kits which are designed for just this purpose ,and the glitter pens you need to decorate the windmills in the craft essentials part of their website.
While making their windmills, kids can ponder the following ten facts:
A typical dictionary definition of a windmill will state that one is "apparatus that harnesses wind power for a variety of uses, e.g. pumping water, driving electrical generators". Windmills are most closely associated with using wind to generate power to grind grain into flour.
People who design, build or repair windmills are called millwrights. In 1945, Norfolk Millwright A. J. Thrower, talking to the Eastern Daily Press, recalled just how dangerous the work could be. He recalled a fellow millwright once falling 30 feet to the ground and landing in the mill dyke. "His only complaint was that he didn't like the taste of the water," Thrower said.
A Greek engineer living in Roman Egypt in the 1st century AD is credited as being the inventor of the windmill – using it to power a machine. The name of the man is a reminder of how important the invention is – he was called simply 'Hero'.
The Persians were also keen windmill-builders and the concept became widespread in the Middle East, China and India.
Windmills did not catch on in Europe until the 18th and 19th centuries; although there is reference to mills (probably animal or water-driven) in the 11th century Domesday Book. One of the earliest examples of a windmill which is recognisable as being of the type we know and love today was Southtown Windmill in Great Yarmouth – which stood 102 feet high.
The development of the 'Post' Mill saw windmills become even more efficient. The Post Mill could rotate its head so that its sails faced the direction of the wind.
It is said that 'windmills built the Netherlands'. Without windmills, water could not have been drained away from the flat, marshy lands of Holland – and farmers couldn't have grown fruit, vegetables and tulips.
Of course, windmills have their disadvantages – they rely on wind to generate power and without wind they are powerless. This is why steam power replaced wind power and led to many windmills falling into disrepair. Often a windmill serves only a decorative purpose – ancient ones look great on the landscape.
The phrase 'tilting at windmills' is a phrase used to describe the act of attacking imaginary enemies or fighting unwinnable or pointless battles. This expression originates from an incident in a book called Don Quixote, written by Spanish author Miguel de Cervantes in 1605. Quixote is a retired country gentleman who becomes convinced that he is a chivalrous knight and embarks on several 'adventures' to the bemusement of all he comes across. One passage of the book details how, riding on his skinny old farm horse, he attacks windmills in the mistaken belief that they are giants.
England also has its own fictional character associated with windmills. Puppet Windy Miller was one of the 'stars' of 1960s British television series Camberwick Green – a show which featured the daily goings-on in the fictional village of Camberwick. Windy, who is fiercely self-sufficient and superstitious, lives in a windmill. When he wants the wind to turn the sails he simply whistles for good luck.
If kids want to be like Windy and own their own windmill then they will love constructing and personalising their own one.
Arts and crafts company Baker Ross has an instruction video on YouTube entitled 'How to make and decorate windmills'. All you need to complete this task is:
A pack of Baker Ross coloured windmills
PicTixx 3D glitter pens
It's such fun to decorate these windmills; adding spots, stripes and checks to the colourful sails.
And remember: if you want a bit of wind to turn these sails it's a good idea to whistle!