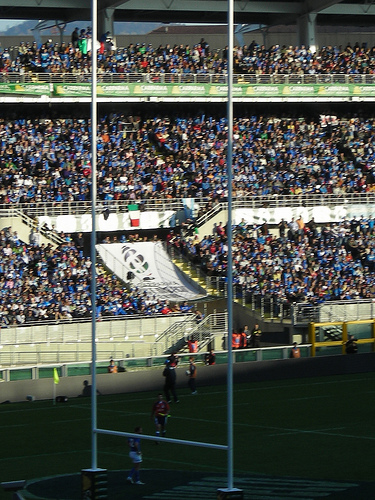 Rugby fans who journey to Rome for the Italy versus England rugby match on 11th February 2012 are guaranteed a pleasant stay in one of the world's most beautiful cities. But how likely is the chance of seeing a close contest?
Previous form points to a comfortable English victory. Of the 12 Six Nations matches played between the two countries since 1992 England have emerged victorious on each occasion. But there is evidence to suggest that Italy are fast catching up…
Statistics certainly won't be uppermost in the mind of the English fans, and English-based Italians, journeying to Rome from London next month; Ryanair has just announced that it is providing an extra flight from London to Rome on 10th February (and an extra return flight on 12th February).
If you want to travel in style then you can always investigate cheap Gatwick parking. Travel services company FHR can also arrange a Gatwick airport hotel prior to your departure.
Italy are relative late comers to the world of rugby. The oval-balled game has been played in Italy since the 1920s but, until recently, has never seriously threatened the popularity of football.
Matters weren't helped by the fact that Italy for many years struggled to enter serious competitions. While England, France, Wales, Ireland and Scotland regularly competed against each other in the annual Five Nations competition, Italy had to be content with the occasional friendly match.
Entry into the Six Nations
Talk of 'gate-crashing' the Five Nations occurred in 1996 when a row over TV rights meant that England were threatened with expulsion from the tournament. The expulsion never occurred but wins in friendly matches over Ireland and France saw the 'Azurri' admitted to the new Six Nations in 2000.
First 6 Nations win over Scotland
Not content with just making up the numbers, Italy sent shock waves through the sport when they won their opening game; defeating reigning champions Scotland, 34-20 in Rome. The result was to prove a little misleading in terms of indicating future performances; Italy's new Six Nation status coincided with many of their best players retiring and even the appointment of big-name foreign coaches couldn't arrest the side's slide.
First win over Wales
It was not until 2006 that they picked up their first point away from home – drawing 18-18 in Wales. However, 2007 proved to be a turning point as they recorded back-to-back wins over Scotland (their first-ever away win) and Wales. Even when their winning run was ended by Ireland, they won praise for their style; one Italian newspaper memorably greeted defeat with the headline: "To lose like this is beautiful."
While the results are not always positive, the sport is now firmly established in the hearts of many Italians who see rugby as embodying qualities of fair play missing in football. This is why Rome's Stadio Olimpico, which is also home to Lazio and Roma, is always packed to the rafters whenever the national side is in action.
Famous players
A fast-growing sport needs idols and Italian rugby has certainly provided a few. Diego Dominguez, who started his international career with Argentina, is one. The fly half hung up his boots in 2000 but came out of retirement to thrill the rugby world for another three years.
Scrum-half Alessandro Troncon, who partnered Dominguez on 50 occasions, is another Italian idol – he made 101 appearances for his country before retiring in 2007.
First victory over France
With the likes of Dominguez and Troncon having raised the bar, Italy finally beat France in a Six Nations match in 2011, claiming an historic 22-21 home victory. The English commentator, watching the Rome crowd celebrate wildly, described the win as the "greatest result in Italian rugby history so far".
This verdict would have to be revised if Italy beat England for the first time when the sides meet in Rome on 11th February 2012.