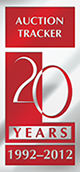 Everett, WA (May 1, 2012) - Northwest Software Technologies, Inc., the pioneering and leading developer of event fundraising management software, designed specifically for non-profit organizations announced this morning that Auction-Tracker is celebrating its 20th anniversary in the non-profit fundraising market.

"Helping to shape how benefit auction fundraisers are managed from the data management perspective and seeing Auction-Tracker successfully become the benchmark of the market has been very rewarding." stated Jack Wilson, Jr., President and Chief Executive Officer of Northwest Software Technologies, Inc.. "While working with the top benefit auctioneers and event planners this market has to offer drives our development, it is our keen sense of listening to the user community and allowing them to actively participate in the development process that defines the software we deliver to market. We are very pleased with the success we have accomplished to date and are far from done!"

"Auction-Tracker is easy to use and allows my auction clients a very effective and efficient way to keep their fundraising auction on track, running smoothly and efficiently from beginning to end" cites Kathy Kingston, CAI, BAS - Benefit Auctioneer and owner of Kingston Auction Company. "Auction-Tracker is very reliable and has improved not only benefit auction logistics, but allows auction staff and volunteers to concentrate on the crucial function of cultivating guests and donors at the night of the auction."

Auction-Tracker was officially released in May of 1992 and has helped in the management of raising over $1.75 BILLION dollars in auction revenue to date. Thousands of non-profit organizations across North America, Virgin Islands, South Pacific and Japan use Auction-Tracker to manage annual one night events that raise tens of thousands to millions of dollars. Auction-Tracker is sold under traditional software licensing methods which means that there are no annual license fees and no percentage take of event revenue per event to use the application.

About Northwest Software Technologies®
Northwest Software Technologies, Inc. is the pioneering and leading provider of fundraising event software to the non-profit sector in the U.S. and Canada. More than 2,000 organizations - including the Cystic Fibrosis Foundation, Children's Hospital Guilds of Seattle, JDRF International (Canada), Boys and Girls Clubs of America, Holt International Children's Services, Junior Leagues, Kiwanis and Rotary International - worldwide use Tracker-Series applications to manage fundraising events. Northwest Software Technologies, Inc. offers four software applications for fundraising event management: A'Thon-Trackertm for sponsor-based pledge type events, Auction-Tracker® for fundraising benefit auctions, Banquet-Trackertm for fundraising banquets and Tournament-Tracker® for benefit golf tournaments. Founded in 1985, Northwest Software Technologies, Inc. is headquartered in Everett, Washington with international distribution offices in Canada and Australia.