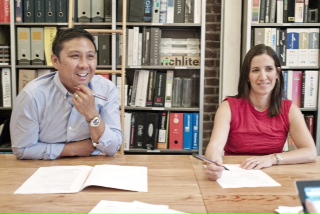 Chicago – Verda Alexander and Primo Orpilla, co-founders of San Francisco-based design firm O+A, are scheduled to co-deliver a keynote speech for NeoCon 2012, North America's largest contract furnishings trade show. They will address NeoCon attendees on Tuesday, June 12 at 8 a.m. in the Sauganash Ballroom, Holiday Inn Mart Plaza. Sponsored by OFS Brands and the ASID, this keynote program is free to attend, open to trade professionals only, and merits 0.1 CEU credit.
"Anyone who has had the privilege of hearing Verda and Primo speak knows that NeoCon attendees are in for an insightful and revealing presentation," said Mike Wagner, senior vice president of sales and marketing for OFS Brands. "Change in the workplace is at warp speed. Many of the world's most innovative companies are seeking guidance from O+A to design work-life environments which help revolutionize corporate cultures and ultimately improve creativity and efficiency for a more agile organization. I'm confident that attendees will leave this presentation both inspired and enlightened after hearing what Verda and Primo believe are key elements for designing the most successful and creative environments in business today. OFS Brands is truly honored to join the ASID in co-sponsoring this keynote program."
About Studio O+A
Primo Orpilla, along with Verda Alexander, co-founded Studio O+A, a San Francisco-based design firm that is responsible for groundbreaking workplace designs at Facebook, PayPal, Evernote, Yelp, Levi Strauss, AOL and other companies. Leaders in the field of democratic design, their expansive and open environments have become a signature look for some of the Bay Area's most forward-thinking innovators. Contract Magazine named Orpilla and Alexander Designers of the Year in 2011.
About OFS Brands
Celebrating its 75th year in 2012, OFS Brands, Inc. is a family owned corporation, headquartered inHuntingburg, Indiana. OFS Brands goes to market under the Carolina, Loewenstein, OFS and First Office brands and is committed to providing socially responsible furniture and logistical solutions through better design, excellent performance, and innovative products and services. Please visit http://www.ofsbrands.com/ for more information.