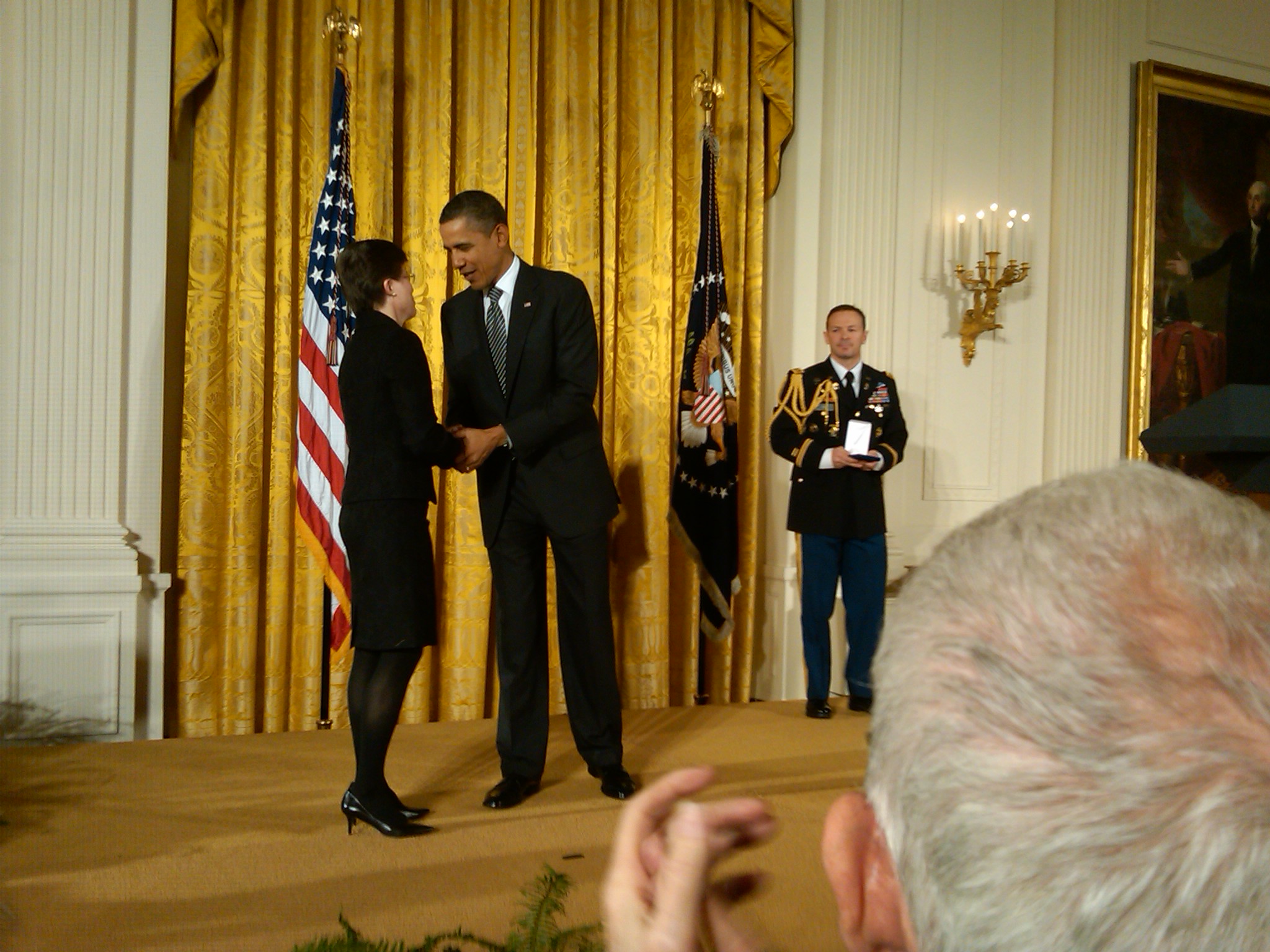 WASHINGTON DC. — National History Day (NHD), a year-long academic program and competition focusing on historical research for 6th to 12th grade students, was awarded the prestigious 2011 National Humanities Medal by President Barack Obama at a White House ceremony, February 13. Dr. Cathy Gorn, executive director of NHD, accepted the award on behalf of the NHD staff, board, honorary advisory council, and state affiliate programs. Also present at the White House ceremony as a National History Day Trustee and past National Chairman, was Richard Prasse.
Prasse is also the current president of the Board of Trustees of the Ohio Historical Society. Following the ceremony, he stated "This was the first time that a K-12 education program has received the National Humanities Medal. That makes it especially significant to everyone on the local, statewide and national levels of NHD who are deeply committed to this program."
"We've learned that participating in the competition develops skills in students that are vital to our communities today and in the future," said Prasse, a partner in the law firm Hahn, Loeser and Parks, Cleveland, OH. "These include skills in critical thinking and problem solving; in research techniques and oral and written communication, as well as in developing self confidence. The National Humanities Medal recognizes how valuable these are to participants."
National History Day originated as a local contest in Cleveland, Ohio in 1974. Dr. David Van Tassel and members of the Department of History at Case Western Reserve University created the History Day program to help reinvigorate the teaching and learning of history in elementary and secondary schools. The program quickly expanded throughout Ohio and into surrounding Midwestern states and became a national program in 1980.
Approximately 7,000 Ohio students in grade 6-12 participated in the 2010-2011 school year. Students demonstrated their research, writing and communication skills in various formats such as research projects, videos or websites. For a sample of an Ohio student's project from 2011, view Lukun Zhang's website: "Kennedy's 'Kiddie Korps;' Diplomacy by the Best and the Brightest," http://75103799.nhd.weebly.com/. Lukun Zhang won the national first place award in the senior category for individual websites and is from Shaker Heights High School, Shaker Heights, OH. Teachers overseeing Zhang's project were Dann Parker and Timothy Mitchell.
"We could not imagine a better way to kick off the History Day season this year than to start with this honor," said Burt Logan, executive director of the Ohio Historical Society. "I encourage students, teachers, parents, and community leaders to cheer on all our Ohio students to the national competition. Who knows where this spark to delve into history may lead each student? The potential returns are boundless."
District History Days in Ohio take place regionally in February and throughout March. Award-winning entries from the district competitions will move on to the statewide Ohio History Day, April 28. Those winners will be eligible to participate in the NHD event in June in Washington, D.C NHD in Ohio: https://mail.google.com/mail/?shva=1#drafts/13574e8959dcd90f
A link to Dr. Gorn being hugged by President Obama during the presentation ceremony: http://www.upi.com/News_Photos/News/National-Medals-of-Arts-awarded-in-Washington/6285/10/?ref=ma Dr. Gorn, a graduate of Case Western Reserve University, leads the professional staff supporting the state programs across the U.S. Gorn and her team allow students to engage in a well run, credible program that prepares them for an ever increasingly complex future.
The National Humanities medals are given to honor achievements in history, literature, education and cultural policy. The citation for National History Day was for being "a program that inspires in American students a passion for history. Each year more than half a million children from across the country compete in this event, conducting research and producing websites, papers, performances, and documentaries to tell the human story."
In addition to National History Day, this year's National Humanities Medals were given to poet John Ashbery; economist and philosopher Amartya Sen; historians Robert Darnton and Teofilo Ruiz; philosopher Kwame Anthony Appiah; music scholar Charles Rosen; literary scholars Andrew Delbanco and Ramón Saldívar.
ABOUT NATIONAL HISTORY DAY
National History Day (NHD) is a year-long academic organization for elementary and secondary school students. Each year, more than half a million students, encouraged by thousands of teachers nationwide, participate in the NHD contest. Students choose historical topics related to a theme and conduct extensive primary and secondary research through libraries, archives, museums, oral history interviews and historic sites. After analyzing and interpreting their sources and drawing conclusions about their topics' significance in history, students present their work in original papers, websites, exhibits, performances and documentaries. These products are entered into competitions at local, state and national levels where they are evaluated by professional historians and educators. Visit www.nhd.org. Twitter: @nationalhistory or Facebook: National History Day.
ABOUT THE OHIO HISTORICAL SOCIETY
Founded in 1885, the non-profit Ohio Historical Society (OHS) provides an array of statewide services and programs related to collecting, preserving and interpreting Ohio's history, archeology and natural history. The society has about 1.6 million items in its collections throughout its 58 sites and within the Ohio History Center, Columbus, Ohio. The Center is home to a world class museum, the state archives, Ohio Historic Preservation Office, and the administrative offices of the Society. The Society receives a portion of its funding from the state, but relies on admission fees, memberships, grants, donations and other forms of revenue to continue to serve Ohioans into the future. For specific information regarding the Society, contact Jane M. Mason, director of marketing and communications, Ohio Historical Society: 614.297.2312.