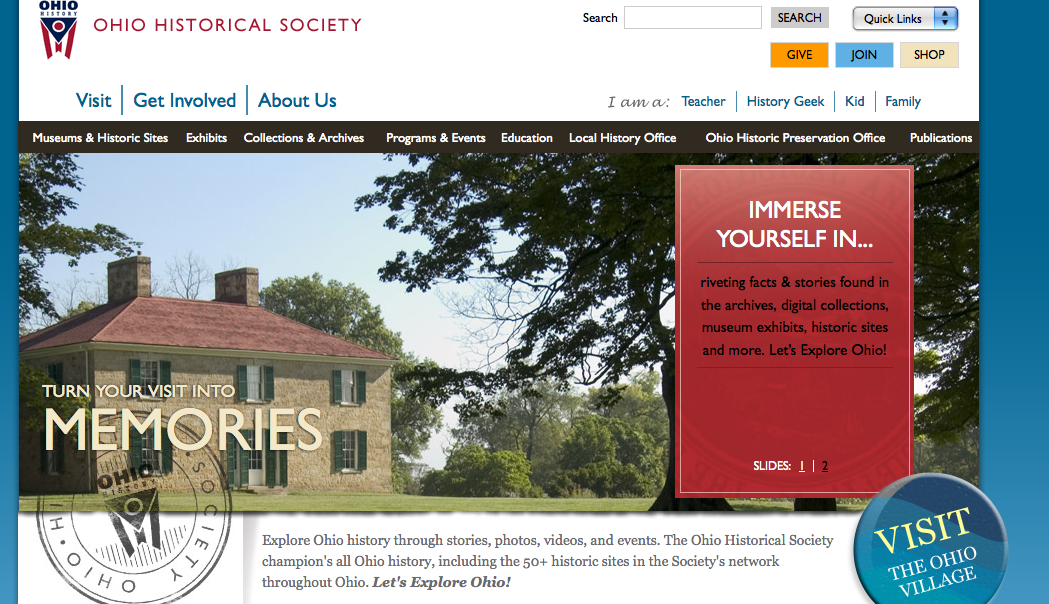 (Columbus) -- The Ohio Historical Society is launching a reconfigured and redesigned website this week, ohiohistory.org. The website, which gets about 4 million unique visitors a year, is composed of more than 1,000 pages, with thousands of links, and hundreds of photos and articles. The project has been in the works for about a year.

"The website is a visual 24/7 cyber representation of the scope and impact of the Ohio Historical Society," said Burt Logan, Executive Director of the Ohio Historical Society. "As a multi-faceted organization, serving a broad base of constituencies, it's a challenge to make the stories of Ohio history accessible to the broadest possible audience all the time."

The website has been configured to bring varying types of resources, whether links to the digital collections of the Society or links to associated events or associated historic sites across the state of Ohio, together in individual articles to help the web visitor connect-the-dots to find more information about any topic in Ohio's history.

"We wanted to make it easy for the visitors to navigate through the website and to get connected to additional relevant content. We've added more videos, more photos, more current content," said Logan.

Logan also noted that many behind-the-scenes technology enhancements will streamline the experience for web visitors. significant improvements have been made for those who wish to sign up for events, purchase memberships, visit the online store, or make a donation to the Society.

MindsOn, a Central Ohio marketing agency specializing in web development, worked with the Ohio Historical Society to re-create the site. Installation of a Content Management System (CMS) was a significant part of the process in the streamlining of the future management of the web content on the site.

The website was originally launched in 1996.