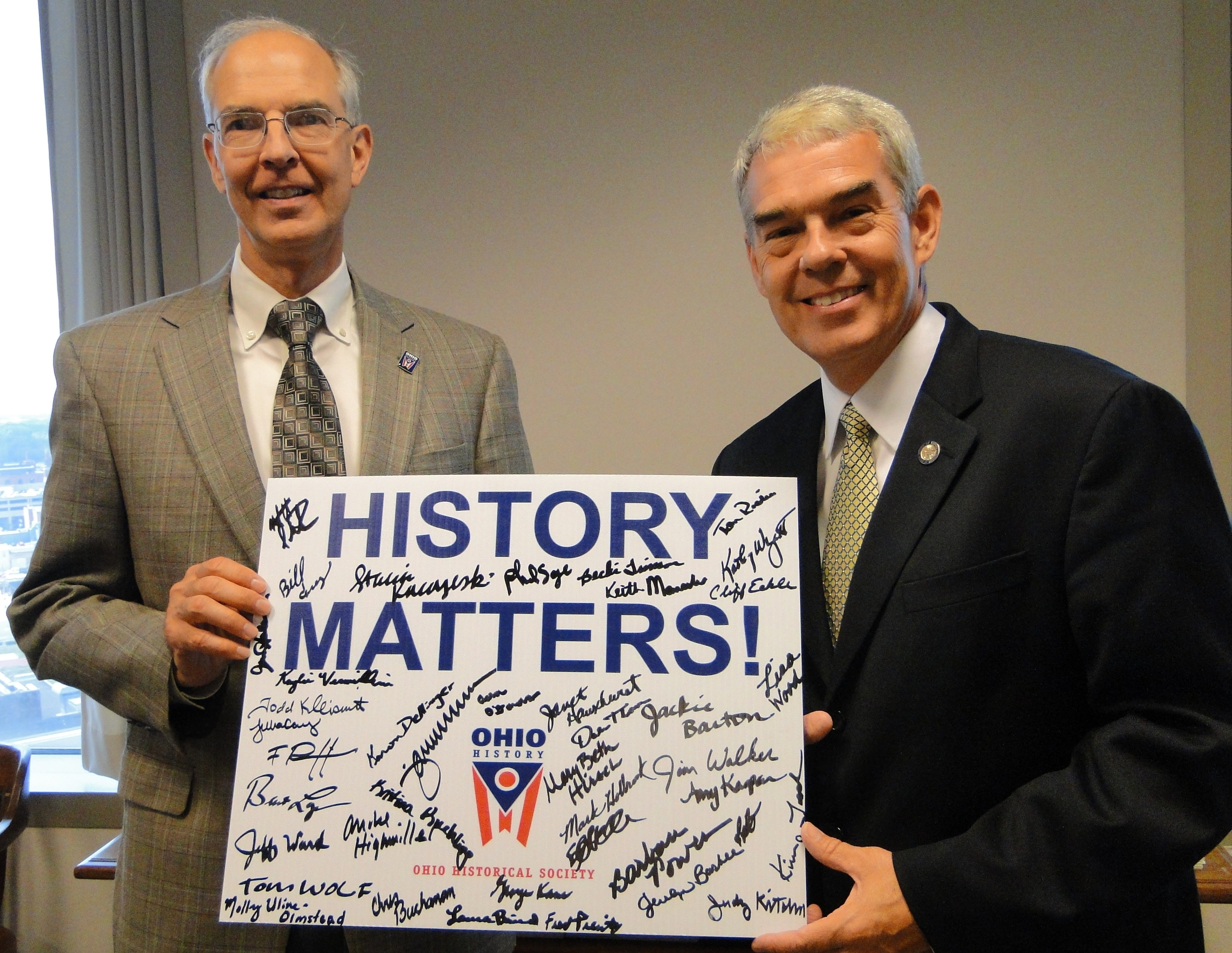 COLUMBUS, Ohio - Ohio Historical Society Executive Director and CEO Burt Logan recently visited with State Rep. Randy Gardner (R-Bowling Green) to thank him for his leadership in gaining legislative approval for an income tax check-off option for taxpayers to boost history efforts statewide. Logan presented Gardner with a sign that reads, "History Matters!" complete with dozens of signatures expressing thanks from Ohio Historical Society supporters.

Gardner introduced legislation, House Bill 104, in February to allow taxpayers receiving an income tax return to donate a portion of their return to the Ohio Historical Society. The legislation passed unanimously out of the House Ways and Means Committee and was then amended into the state's two-year operating budget that was signed into law by Gov. John R. Kasich on June 30.

Gardner worked with the Ohio Historical Society, the Wood County Historical Society and other local history organizations in northwest Ohio to achieve passage of the tax check-off. The Ohio Historical Society plans to use the funds from the tax check-off to create a matching grants program to support local history-related projects and organizations throughout Ohio.

"One of the best things about the tax check-off is that this creates a convenient way for Ohioans to voluntarily make a donation without increasing government spending or raising taxes," Logan said. "We appreciate Representative Gardner and his colleagues working with us to find more innovative approaches to support Ohio history during tough budget times."

The Ohio Historical Society tax check-off is expected to appear on the 2011 Ohio income tax forms available early next year.