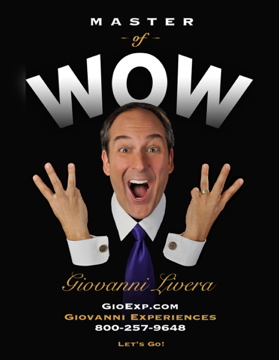 StarCite Inc., the leading provider of Web-based solutions to strategically manage corporate meetings and events, today announced that world-renown "Creator of Experiences" Giovanni Livera will join StarCite's Booth #1205 at the upcoming annual convention of the Global Business Travel Association in Denver August 21-24, 2011.

Giovanni has been creating meaningful experiences for audiences of all sizes for more than two decades. Giovanni has authored three books and was recently inducted to the prestigious National Speaker's Hall Of Fame. He is also only one of five people in history to have received the coveted Gold Cups Award by the International Brotherhood of Magicians.

"StarCite's expertise and experience are essential ingredients to a company's success and we believe that the results we are bringing to the marketplace are truly astonishing. What better way to highlight these achievements than to bring a world-class "Creator of Experiences" to our booth to deliver our message to the business travel industry in an innovative way," said Mary McDaniel, StarCite's vice president of marketing.

StarCite has launched a number of astonishing firsts for the industry this year:

Solutions:
New Nexus Platform for Innovation enabling:
New Search for Planners and New MarketView for Suppliers
Mobile Solutions
New Supplier Marketplace and Supplier Accreditation
Next Generation Business Intelligence for Actionable Results

Thought Leadership:
World-class team of experts providing vision and expertise to the industry
Publishing the industry's definitive guide to SMM - The Strategic Meetings Management Handbook: From Theory to Practice written by industry leaders
Supporting the Development of the SMM Maturity Model to be launched by the GBTA Foundation

Results:
Customers gain greater value, more quickly
More award winning client recognitions than any other company
Developing the industry's benchmark statistics SMM savings and value analysis tool

Giovanni is at once a performer and a presenter, enthusiast and entertainer, magician and motivator. Today, Giovanni's unparalleled ability to motivate and transform people and organizations has made him one of the most sought-after corporate entertainers in America, and his spectacular message has electrified over half of the country's Fortune 500 companies. ?