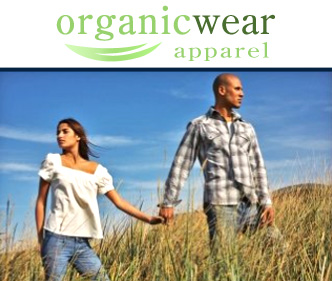 VACAVILLE, CA - Organicwear Apparel announced the launch of its new website www.organicwearapparel.com that will offer organic clothing, sustainable clothing and accessories that are made from organic cotton and eco-friendly fabrics such as soy, hemp and bamboo. The website will also serve as an information resource and destination for consumers who are interested in learning more about organic clothing and sustainable clothing as well as the health benefits of organic clothing and the environmental advantages of earth-friendly clothing.

The website will feature organic clothing for men and women that is made from organic cotton. The clothing line also includes soy, bamboo and hemp clothing that offer many environmental benefits and fabric-related advantages. The organic clothing line for women features items such as organic cotton jeans, organic cotton-soy tees and tanks, and organic cotton yoga clothes and activewear. The organic clothing line for men includes items such as organic cotton pants, organic cotton-soy shirts and sweaters made from an organic cotton and bamboo blend. The website will also offer organic baby clothing and a collection of bags and packs made from organic cotton and hemp canvas. "Our collection merges environmentally-friendly clothing with fashion and style," commented Tracy Rozenbaum, Director of Development of Organicwear Apparel. "We want our customers to look fantastic while supporting the value of better health and a safer environment."

The establishment of this new website addresses the increased demand for sustainable, eco-friendly and organic clothing, also referred to as "green" clothing. The market for organic and sustainable clothing has been steadily growing in recent years, both in the United States and worldwide and demand for "green" clothing is expected to increase in the coming years. According to Organic Exchange, a non-profit trade association based in Texas, global retail sales of organic cotton apparel and home products reached an estimated $4.3 billion in 2009, up 35% from 2008. It is anticipated that the market will continue to grow by approximately 20% to 40% in 2010 and 2011.

A primary objective of the new website will be to offer resources and information about organic, sustainable and eco-friendly clothing and educate consumers about the benefits of these products. Some of the benefits of organic cotton and other environmentally-friendly fabrics such as soy, hemp and bamboo are the elimination of pesticides and other chemical, reduced health risks, reduced ground and water contamination and the protection of workers around the world. The company plans to update its website with new and interesting information on a regular basis and also plans to introduce a newsletter in the coming months.

To support the launch of the new website, Organicwear Apparel is offering customers, for a limited time, a 15% discount on all items, plus free shipping on orders over $50 shipped to any destination in the United States and Canada. Global customers outside of the U.S. and Canada will receive a 15% discount on shipping for orders over $50.

Organicwear Apparel is an environmentally conscious company that educates consumers about the benefits of eco-friendly clothing and offers a complete line of clothing for men and women made from organic, sustainable and environmentally-friendly fabrics. All clothing is made from high quality natural fibers such as organic cotton, bamboo, hemp, soy, silk and merino wool. Organicwear Apparel's clothing line combines fashion with environmental responsibility. More information about Organicwear Apparel is available at www.organicwearapparel.com.