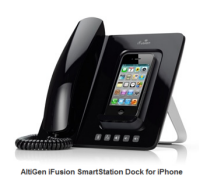 Sales of AltiGen Communications' (OTCQX:ATGN) could be getting a shot in the arm for the remainder of this quarter and in upcoming quarters as their revolutionary iFusion SmartStation is now available at the Apple, Inc.'s (NASDAQ:AAPL) Apple Store (http://store.apple.com/us/product/H7939VC/A/altigen-ifusion-smartstation-dock-for-iphone) and the uber-popular Hammacher Schlemmer website (http://www.hammacher.com/Product/81999?promo=search).
The iFusion SmartStation is a multi-function iPhone docking station that pairs the iPhone with the iFusions's ergonomic handset or business-grade speakerphone via built-in Bluetooth that is functional up to 33 feet away. Additionally, the iFusion also charges the iPhone, offers streaming music playback (A2DP), an audio jack for external speakers and USB pass through for syncing to a Mac or PC. Compatible with the iPhone 3G, 3GS, 4 and 4S, it also integrates seamlessly with a variety of voice-enabled applications such as Siri, FaceTime, Skype, AltiGen's MaxMobile, Cisco Mobile, and Avaya one-X Mobile. "It's the perfect iPhone accessory for your home or work office," according to the Apple Store website.
Hitting the pages of the Apple Store just two days ago, reviews are already trumpeting praises of the iFusion with one reviewer calling it "A Swiss Army knife Bluetooth accessory".
According to AltiGen's recent earnings call, sales from the iFusion tallied approximately $250,000 in in first quarter of fiscal 2012. This is a solid start considering that a recent deal with AT&T was just getting underway and the agreements with Apple and Hammacher were not in place yet. "We expect to see growing momentum throughout the course of this year," said Jerry Fleming CEO of AltiGen Communications during the call.
The iFusion product is only a small portion of AltiGen's offerings. The company is the leading provider of 100-percent Microsoft-based VoIP business phone systems and Unified Communications solutions. These technologies make-up the lion's share of revenues for AltiGen, which totaled $4.8 million during fiscal Q1 2012. Further stoking the revenue fire should be that the company has passed Microsoft's certification testing, qualifying AltiGen as a Microsoft Gold Certified Partner and making their MaxACD system the only call center solution in the world certified for Microsoft Lync servers.
We asked the AltiGen chief about potential clients given the vaunted Microsoft certification. "I would not even try to speculate on the number of potential clients of all sizes that we could have. However, it is safe to say that we are very excited about our future and the deal flow that is already coming in because of the certification," Fleming told OTC Showcase in a phone conversation this morning.
New agreements have steadily been streaming in since the start of the year with the new developments to deploy MaxACD, including a new contract with Milwaukee Electric Tools.
Shares have certainly been on the rebound for AltiGen since dipping to 20 cents late in December to now be trading around 60 cents each. It was right about one year ago that shares were trading at highs of $1.23, so the headroom is substantial for short-term growth, especially considering that the company looks stronger than it has in its history as it aligns with some of the biggest names in the communications world.
Disclaimer: Neither http://www.otcshowcase.com nor its officers, directors, partners, employees or anyone involved in the publication of the website or newsletters ("us" or "we") is a registered investment adviser or licensed broker-dealer in any jurisdiction whatsoever. Further, we are not qualified to provide any investment advice and we make no recommendation to purchase or sell any securities. The prior article is published as information only for our readers. otcshowcase.com is a third party publisher of news and research. Our site does not make recommendations, but offers information portals to research news, articles, stock lists and recent research. Nothing on our site should be construed as an offer or solicitation to buy or sell products or securities. This site is sometimes compensated by featured companies, news submissions and online advertising. Viper Enterprises, LLC (parent company of OTC Showcase) has received no compensation for this article, but owns shares and is long ATGN. Please read and fully understand our entire disclaimer at http://www.otcshowcase.com/about-2/disclaimer.