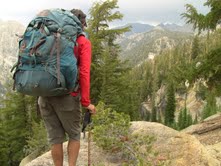 On April 12, writer, storyteller and producer
Fitz Cahall
will release
The Love Letter
, a film that follows a personal climbing trip, but which is ultimately an artistic, entertaining ode to the ability of wild places to restore and inspire the human spirit. The film will be released via the web sites of sponsors
Outdoor Research
and
Osprey Packs
, and the story will also be the subject of an article in the May issue of
Climbing Magazine
. It will make its big-screen debut two weeks later at the
5 Point Film Festival
in Carbondale, CO.
The film chronicles what happens when Cahall and his wife Becca pursue a 10-year dream to cut loose from the confines of everyday life in search of new and classic climbing routes across the spine of the Sierra Nevada Mountains.
While The Love Letter highlights climbing, it is not a film about climbing. At its heart, it is about exploration, the natural world and the places that two strong legs can take the intrepid and imaginative. One of the central themes is the idea that people don't have to travel to extreme locations to experience the natural world. Ultimately, the film encourages deep connections to wilderness in an era where it has become harder and harder to disconnect from the motion of daily life.
The Love Letter will be supported with additional content and perspective about the film from Fitz and Becca Cahall, posted on
Outdoor Research's Verticulture
site,
Osprey Packs' blog
and via
The Love Letter Facebook page
during the month of April.
People involved:
Fitz Cahall is the creator of the successful online radio show
The Dirtbag Diaries
. Over the last four years, the show has developed both loyal listeners and repeated sponsorship. Outside Magazine listed it as the best outdoor podcast. In winter of 2010, in conjunction with Bryan Smith of Reel Water Productions, Fitz launched The Season, a 22-episode web television series following five athletes through the course of a single season in the Northwest. The show went on to generate more than 300,000 downloads.
Photographer, videographer and climber
Mikey Schaefer
helped create the vision. He's one of the few people on the planet who can climb a 2,000-foot 5.10 in tennis shoes, while pausing to film. Climbing extraordinaire
Kate Rutherford
did much of the rigging and heavy lifting.
Tim Loubier
, the artistic video editor, shaped the footage into a coherent, sometimes serious, sometimes whimsical 12-minute film.
We Are Augustines
and
Bradley Carter
provided music.
Anya Miller Berg
lent her graphic design prowess to the movie, supporting materials and beyond.
Contact:
Claire Rabun
Verde PR
claire@verdepr.com
(970) 259-3555