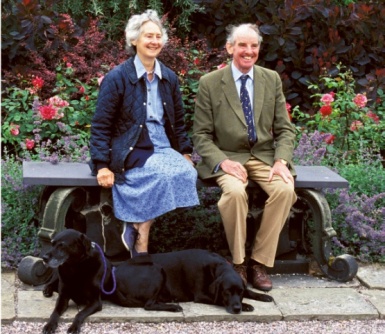 Little Rock, AR— Monday, March 05, 2012 – Acclaimed garden designer and lifestyle expert P. Allen Smith announced today that Lord Michael Ashbrook will speak at the Clinton School of Public Service on Wednesday, March 28, 2012 at 12:00 p.m. (Sturgis Hall). Lord Ashbrook's lecture is entitled "Arley Hall and its Gardens - A Privately Owned Historic Estate." Arley Hall in Cheshire, United Kingdom, has been owned by the same family for over 500 years and the current owner, the 11th Viscount Ashbrook, will give a lecture about the gardens, Arley Hall and other historic buildings on the estate.

Arley Hall Gardens are one of the most significant gardens in Europe and a Christie's Garden of the Year Award Winner. The 12 acre gardens, voted one of the top 50 in Europe, include the double herbaceous border planted in 1846 and reputed to be the earliest in England. Many unique features include the giant Ilex columns, the pleached Lime Avenue and yew topiary. Other highlights include walled, scented and herb gardens, and arboretum, as well as an extensive collection of rhododendrons, azaleas and exotic trees and shrubs.

Smith has been friends with the Ashbrook family since his college years when he was a graduate student at the University of Manchester to study garden history and design. He met the 10th Viscount Desmond, Ashbrook while he was exploring the family's garden estate in Cheshire. Smith became friends with Lady Elizabeth Ashbrook, who later wrote the foreword to his first book, "P. Allen Smith's Garden Home." Arley is one of the most outstanding gardens in Britain today. A jewel that is worth visiting.

Today, the 11th Viscount Ashbrook, Michael Ashbrook is heir to of the Arley Estate and Gardens. He was educated at Eton College and at Worcester College in Oxford and was a 2nd Lieutenant of the Grenadier Guards 1955 (National Service). He is a former member of the Mercian regional Committee of the National Trust. His wife, the Lady Zoe Ashbrook will be accompanying Lord Ashbrook on his U.S. lecture tour.

Lord Ashbrook joins previous experts, scholars and aficionados to speak in the Garden Home Lecture Series such as landscape and garden designer Lady Xa Tollemache. Lady Tollemache's work ranges from small courtyard gardens to large estates in London, Europe, Scandinavia and the United States, including her own gardens at Helmingham Hall in Suffolk, England.

Previous Garden Home Lecture Series garden historian, Peggy Cornett, Curator of Plants at Monticello of the Thomas Jefferson Foundation presented a talk entitled The Thomas Jefferson Center for Historic Plants. Ms. Cornett appears regularly on the PBS series "Virginia Home Grown" and is a recipient of the Flora Ann Bynum Medal for exemplary service in the field of garden history.

About P. Allen Smith
P. Allen Smith is an award-winning designer, gardening and lifestyle expert and host of two public television programs, P. Allen Smith's Garden Home, P. Allen Smith's Garden to Table and the syndicated 30-minute show P. Allen Smith Gardens. Smith is one of America's most recognized and respected design experts, providing ideas and inspiration through multiple media venues. He is the author of the best-selling Garden Home series of books published by Clarkson Potter/Random House, including Bringing the Garden Indoors: Container, Crafts and Bouquets for Every Room and P. Allen Smith's Seasonal Recipes from the Garden. Allen is also very active on social networks such as Twitter, Facebook, Allen's Blog and YouTube as well as on the new eHow Home channel. His design and lifestyle advice is featured in several national magazines. Learn more at http://www.pallensmith.com.