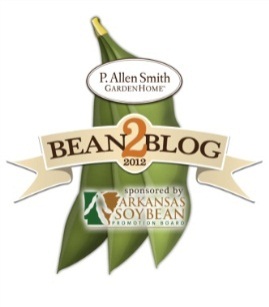 Little Rock, AR— Monday May 21, 2012 – On May 22, national television personality, author, fifth generation nurseryman and lifestyle expert P. Allen Smith, along with the Arkansas Soybean Promotion Board, will host 19 women bloggers from around the state. A day of education is planned for trend sharing and knowledge exchange about the uses of soybeans in everyday life and its economic significance for the state.

Smith remarks, "Social media has caused a huge paradigm shift in how business is conducted on our planet. The social web has created a new era of instantaneous business where bloggers are today's up-to-the-minute voice. Businesses want to tap these bloggers to spread positive word-of-mouth about their products." Smith continued "Bloggers are very influential because they become product evangelists or influencers giving marketers instantaneous feedback on exclusive previews, product testing, marketing plans, customer services audits, etc. The blogger's opinions become actionable items that businesses can employ immediately thus better serving consumers. In this scenario, everybody wins."

A full day at Moss Mountain Farm begins with tours of the Garden Home and surrounding gardens. Soybean representative Jim Carroll will share his experiences as a soybean farmer. "Most people don't realize what a farmer's schedule looks like this time of year. I'm happy to have the opportunity to share what a day in my life as a soybean farmer looks like," said Jim Carroll, Arkansas Soybean Promotion Board member and United Soybean Board representative.

The event will also feature interactive soybean workshops with guest presenters who will demonstrate how to grow, cook and craft with soybeans and soy-based products. Smith remarks, "Bean2Blog creates an opportunity for us to share ideas and information about the soybean industry, to talk trends as well as to know each other better. I'm proud to facilitate events of this kind to help get the word out about soybeans grown here in my home state.

For more information about Arkansas soybeans, visit www.TheMiracleBean.com. For more information about P. Allen Smith, visit www.PAllenSmith.com

* * *
About P. Allen Smith
P. Allen Smith is an award-winning designer, gardening and lifestyle expert and host of two public television programs, P. Allen Smith's Garden Home, P. Allen Smith's Garden to Table and the syndicated 30-minute show P. Allen Smith Gardens. Smith is one of America's most recognized and respected design experts, providing ideas and inspiration through multiple media venues. He is the author of the best-selling Garden Home series of books published by Clarkson Potter/Random House, including Bringing the Garden Indoors: Container, Crafts and Bouquets for Every Room and P. Allen Smith's Seasonal Recipes from the Garden. Allen is also very active on social networks such as Twitter, Facebook, Allen's Blog and YouTube as well as on the new eHow Home channel. His design and lifestyle advice is featured in several national magazines. Learn more at www.pallensmith.com.

About Arkansas Soybean Promotion Board
The Arkansas Soybean Promotion Board was established to improve the profitability of soybean production in Arkansas and to distribute funds from the National Soybean Checkoff for research and extension projects conducted by the University of Arkansas Agricultural Experiment Station and Cooperative Extension Service. The board consists of soybean producers nominated by various producer organizations within Arkansas and appointed by the governor. Although board members contribute many hours of their time to administering the program, they serve without pay. The United Soybean Board, through soybean checkoff investments, is committed to funding the research, development and commercialization of U.S. grown soybeans. Learn more about the Arkansas Soybean Promotion Board at www.themiraclebean.com.