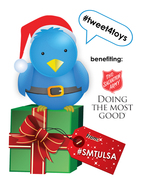 #Tweet4toys is a toy drive sponsored by Social Media Tulsa benefiting The Salvation Army in Tulsa (@SalArmyTulsa) by collecting toys for Tulsa's forgotten angels.
Every year, The Salvation Army helps thousands of families during the holidays. Thanks to the generosity of so many Tulsans, most of the angels are adopted from the Angel Trees, but there are always some that do not get their holiday wishes fulfilled.
These forgotten angels are still left on the trees when it is time to give out gifts. Again this year, Social Media Tulsa is stepping up! They are hosting #Tweet4Toys to collect toys that will be used to ensure that every forgotten angel receives something special this Christmas.
The goal for Tweet4toys this year is to collect more toys. To reach that goal, Social Media Tulsa is hosting a series of Meetups and Tweetups.
In addition to the events, there are more opportunities to donate toys. Tulsans can drop off a Toy at one of the Tweet4toys drop off locations,host an office, salon, church, or family toy drive. Tulsa's Eco Green Mobile Detailing will pick them up.
People not in the Tulsa area can donate via The Salvation Army's mobile giving. Text the words "Joy Toy" to 85944. (Include the space) to donate $10.
"To help spread the word, we are asking everyone who views this release to post the link to his/her Facebook wall and to send out the official tweet," explained Social Media Tulsa founder, Cheryl Lawson. "We're hoping that the generosity of the Tulsa community, combined with the power of social media, will help us collect more toys so that no child is without a toy on Christmas morning."
The official Tweet is, "#Tweet4toys helps The Salvation Army help kids @SalArmyTulsa http://tweet4toys.org ."
"While you're shopping on Black Friday, Small Business Saturday, and Cyber Monday, we hope you remember to pick up a few toys for the forgotten angels and that you'll send out a #Tweet4toys."
For more details and to learn how to participate visit tweet4toys.org.