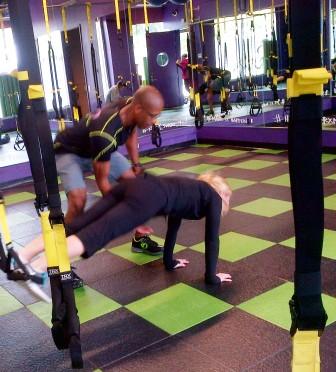 NEW YORK – PEDAL NYC, a new indie gym on New York's Upper Westside debuts with a whole new approach to fitness -- kick-butt combo classes that pair spinning with strength training!
Centered around state-of-the-art, LIVESTRONG indoor cycling bikes, TRX® Suspension Training Equipment and multifunctional synergistic core training classes, P-E-D-A-L stands for Physical Excellence Delivered Around Life. The studio is designed to fully engage its clients, create balance and help maximize fitness results.
PEDAL NYC's jam packed schedule includes 45 minute spin classes, 30/30 combo class (30 minutes of spinning, 30 minutes of strength training using TRX and some outdoor boot camp moves in their private courtyard) and CoreRxNTM, a crunchless ab class. Other classes include Yoga, and a new Full Throttle Workout which includes a heart-pumping 90 minutes of Pedal-ing, TRX-ing, Kettlebell-ing and CoreRxN-ing!
"We believe that there are more ways than one to strengthen and tone key muscles, so we have incorporated classes that will increase endurance, build essential core strength and improve flexibility," Mr. Ray aka Raymond Wallace who serves as the company's Chief Fitness Strategist.
THE PEDAL NYC FAMILY
A family affair, PEDAL NYC was founded by Mr. Ray and his wife Tara, who serves as the company's CEO. The two fell in love while Mr. Ray was helping Tara rehabilitate after a bout with Metastatic Ewing's Sarcoma cancer. The lovebirds have a 4-year-old son Caleb and a new addition on the way.
The Wallaces take family to heart from the various relatives you see on their staff to the welcoming and caring attitude they have with each client that steps into the high-impact facility.
"We take your fitness personally!" emphasizes Mr. Ray. "We want to know your fitness goals and we will work your butt and your thighs off, to achieve them!!"
The message of giving back isn't lost on the dynamic duo as all proceeds from their water sales benefit Running Through Walls http://www.runningthroughwalls.org, a charity they launched as a result of Tara's cancer to promote wellness for children, adolescents, and emerging adults fighting their battles with cancer & life after cancer. Their focus is to helps kids maintain physical wellness as they wage battle with childhood cancer.
Location: 33 West End (at 61st Street, in the rear)
Website:
www.pedalnyc.com
Price: $30.00/class – please see website for package deals
Twitter:
@PedalNYC
@MrRayFit
Facebook:
www.facebook.com/PedalNYC