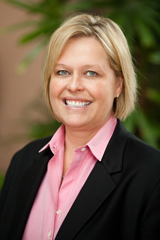 PerfectServe, the leading provider of clinical communications and clinical information delivery, has named a health care industry leader, Leigh Ann Myers, RN, MSN, as vice president and chief clinical officer.
In her role as chief clinical officer, Myers will provide clinical expertise, vision and insight to the company's strategic clinical direction and product development.
With more than 15 years of health care expertise in quality and performance improvement, Myers comes to PerfectServe from PatientSafe Solutions where she served as a senior clinical product expert. Prior to her tenure at PatientSafe Solutions, Myers was a director of collaboratives at Premier healthcare alliance, where she was responsible for developing and executing quality, safety and patient experience collaboratives. Additionally, she designed, developed and implemented solutions to enhance hospital quality and safety improvement efforts for both national and international improvement projects.
Myers holds both a bachelor's and master's degree of science in the field of nursing from Queens University.
"We are honored that Leigh Ann is part of PerfectServe because she brings in-depth clinical and technical leadership to the team" said Terry Edwards, president and CEO of PerfectServe. "She will be an excellent addition to our team, supporting our strategic vision of standardizing clinical communication and information delivery across the continuum."
About PerfectServe
Advancing care coordination across the continuum, PerfectServe's clinical communication and information delivery platform makes it easy to connect clinicians — and push relevant clinical information — to the right physician at the right time, in the precise way each physician wishes to be reached. Based in Knoxville, Tenn., PerfectServe processes more than 30 million transactions annually, connecting more than 20,000 physicians in health systems and medical practices across 154 markets in the United States. For more information go to www.perfectserve.com, visit Twitter, or call 877-844-7728.