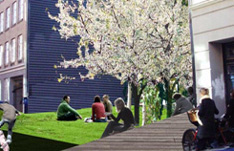 Amsterdam, The Netherlands - The closing date for the
Philips Livable Cities Award
is quickly approaching; however there is still time to enter! We are looking for individuals, community groups or NGO's and businesses with ideas for
`simple solutions'
that will improve people's health and wellness in a city.
To help translate these ideas into reality, three Award grants totaling _125,000 are being made available to improve city living. One overall winning idea from any of the three categories outlined below will receive a grant of _75,000, while two additional ideas will receive grants of _25,000.
Award entry categories:


Well-being outdoors: Initiatives that will help make citizens feel safe and secure in public spaces, or help create city identity and foster a sense of belonging;

Independent living: Initiatives that will help the growing number of elderly people living alone to feel secure and comfortable in a city, and / or enable elderly independence with the appropriate access to healthcare;

Healthy lifestyle at work and home: Initiatives that will support staying healthy, whether through a person's surroundings or other essentials such as exercise, sleep and diet.

The Philips Livable Cities Award is supervised by an
international panel of experts
. This esteemed group specializes in a range of urban issues including city growth, architecture, population aging and longevity issues, urban communication, climate change and transportation issues.
The closing date for entries is Thursday, October 28, 2010 at 5pm Central European Time. To enter, visit the Livable Cities Award site at
www.philips.com/because
.