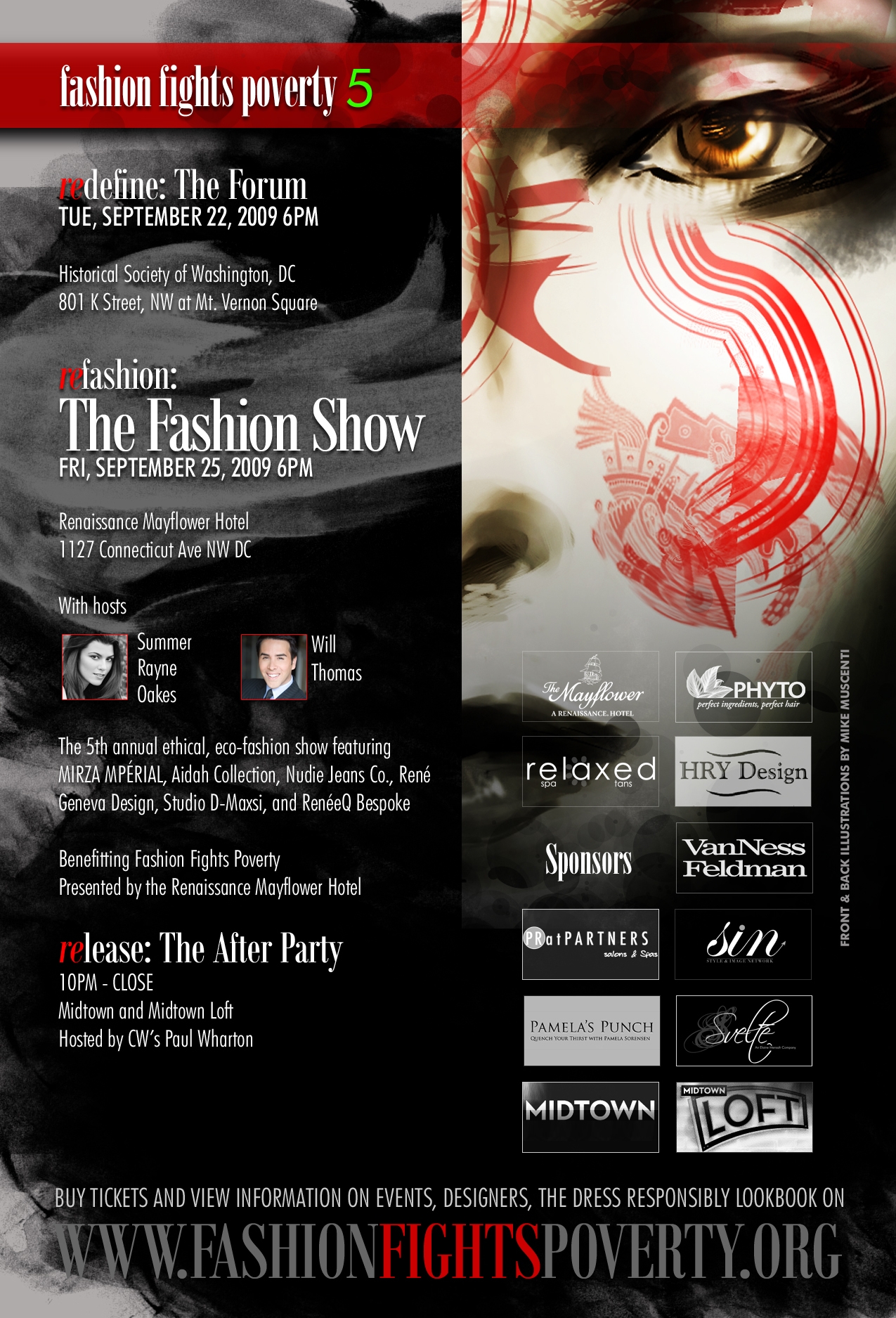 WASHINGTON, DC- Fashion Fights Poverty (FFP), the organization
dedicated to raising awareness about the fight against global poverty through
fashion, is excited to announce renowned botanical hair care brand Phyto as
this year's fashion benefit diamond sponsor. The fundraiser will be held at
The Renaissance Mayflower Hotel, Washington, DC on Friday,
September 25th at 6PM.

The benefit, which is one of DC's leading fashion fundraisers, will raise
awareness about social responsibility, support projects that create income-generating and micro
financing opportunities for artisans in developing countries, as well as educate local youth,
specifically, District of Columbia Public School Woodrow Wilson's Clothing and Textile Program.
.Additionally, FFP aims to push the envelope each year by introducing some of the most interesting
and eclectic eco-sustainable products and artisan fashions.

"As a brand that believes in environmental sustainability and embracing creativity to make a
difference in their communities, Phyto is proud to be an official sponsor and supporter of Fashion
Fights Poverty, shares Jenna Muller, Director of Communications for Phyto. "Our mission is to
combine forces with PR at Partners salon and the other great organizations involved, to help Fashion
Fights Poverty raise awareness to promote responsible manufacturing and shopping in order to reach
their goal of eradicating poverty."

At the benefit, Phyto experts will be on-hand to provide guests with a complimentary hair and scalp
analysis with their unique Phyto hair scope. The scope magnifies the hair 200 times in order to
diagnose the hair's health. Guests will then receive a customized Phyto Rx and deluxe samples.
Behind the scenes, at the Phyto Backstage Eco Lounge, Phyto and PR at Partners salon stylists
will be creating the eco-chic runway looks. The team will also give trend updates on backstage
happenings and product tips, as well as provide exclusive interviews with celebrities, models,
designers, and makeup artists. Phyto will also Twitter (@phytohaircare) instant backstage insider info
and pics direct from the Phyto Backstage Eco Lounge.

The inclusion of Phyto in this year's fashion benefit strengthens FFP's commitment to the Dress
Responsibly Campaign, which encourages consumers to select eco-friendly and ethical fashions
and products. Phyto is a firm believer in environmental awareness and botanical hair care. The
company's products utilize environmentally conscious glass and aluminum packaging, which reduces
the use of preservatives, maximizes the effectiveness of the botanical formulas, and is 100%
recyclable.

Join FFP for the climactic finale of its year-long endeavor to alleviate poverty by showcasing ecofriendly
and ethical fashion designs during this year's 5th annual benefit fashion show.

Date: Friday, September 25, 2009
Location: The Renaissance Mayflower Hotel
1127 Connecticut Ave, N.W.
Washington, DC 20036
Time: 6:00 pm-10:00 pm

For more information on FFP and the benefit visit www.fashionfightspoverty.org

About Fashion Fights Poverty (FFP)
Fashion Fights Poverty is a 501(c) 3 non-profit organization that raises awareness for initiatives that
encourage and support creative, effective, and sustainable means of challenging poverty. We believe
that the industries of fashion, textiles, and design offer unique and effective opportunities for
designers, artisans, and consumers alike to contribute to the alleviation of poverty through trade, skillbuilding,
community empowerment and consumer awareness.

About PHYTO
PHYTO (fee-toe) is a leader in creating targeted botanical hair care treatments for all hair types since
1967. Phyto formulas boast extremely high concentrations of active botanical extracts with clinically
proven results. Phyto is manufactured and distributed by Alès Group, USA, a subsidiary of Alès
Groupe, located in Bezons, France. PHYTO does not test on animals. Please recycle. For more
information, please contact 1.800.55.PHYTO or visit www.phyto-usa.com. Twitter: @phytohaircare.