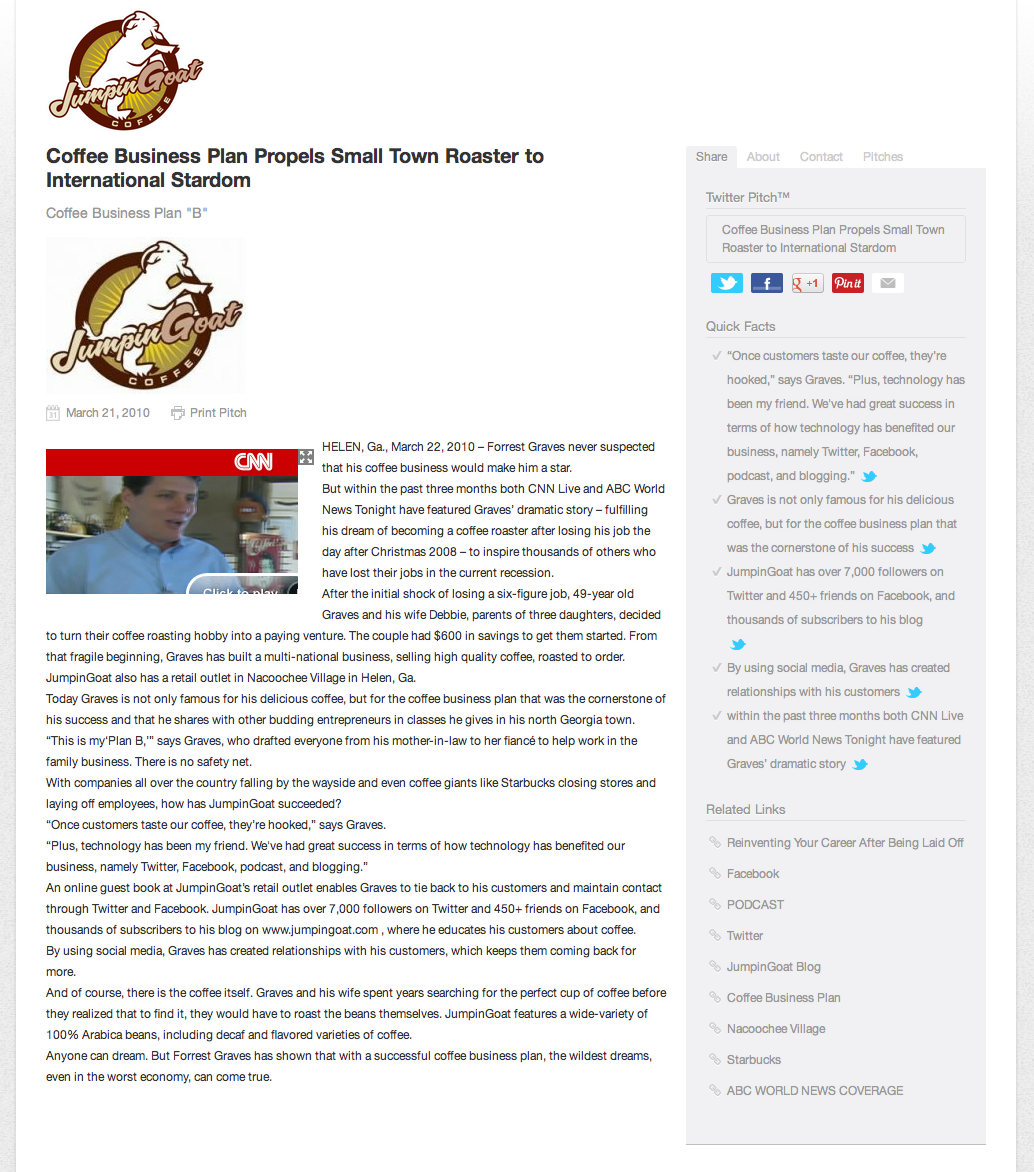 Last Friday, Cision introduced Social Publish, integrating PitchEngine's social publishing tool into our campaign management platform. This week, we'd like to continue our blog post series of Q&A's with PitchEngine customers. This week were speaking with Forrest Graves, Founder of JumpinGoat Coffee Roasters.
JumpinGoat Coffee Roasters is one of the country's premier mail order and Internet purveyors of premium AA Grade coffees, and Teas from around the world. They use only 100% Arabica Coffee and offer over 50 variety, flavors and blends. JumpinGoat also offers a wide selection of coffee and tea accessories in addition to specialty gifts.
Q. How long have you been using PitchEngine to promote your content?
A. JumpinGoat Coffee Roasters has used PitchEngine since early 2010.
Q. What types of branded content have you put on PitchEngine?
A. We have focused primarily upon the entertainment aspect of the JumpinGoat brand and that has spanned several product and service categories including our retail presence, our partnership efforts, and even the human interest side of our company.
Q. Once you put your content on PitchEngine, what do you do to share/promote it?
A. One of the huge benefits of PitchEngine is that it is, among many other things, it is a promotion tool. Social Media is a huge part of our strategy, so we like to use the social media/network "share" dashboard that PitchEngine provides. In addition, we use tactic and strategy to optimize "key words" in our releases to make the release searchable. That said, we use the "tags" section PitchEngine provides to tag our content. Finally, we use face book and other respected social media platforms to chat up the short URL that the PitchEngine mechanics makes for us. PitchEngine makes it all very easy!
Q. What type of results have you seen from publishing your content on the site?
A. In the past year we have had appearances and features in/on ABC World NEWS, CNN "LIVE", FOX Business News, Bloomberg, AOL News, SUCCESS Magazine, WEALTH Magazine, Georgia Magazine, and The Martha Zoller show…just to name a few.
Q. How do you measure the success of a pitch?
A. Metrics are important, and one of the real challenges around any Media is the question of "Return on Investment". Our success in the space of media relations is unquestionable, but we measure a pitch largely by the level of interest our pitch has in terms of "reads" and "shares". We use the PitchEngine dashboard to help us track the reads, we track the shares via social networks, and we also look at Google analytics to see the spike we have on the global community.
Q. How has PitchEngine helped you to better promote your content?
A. PitchEngine has been a great partner in providing us tools, resource and a catalyst to our local, regional, and global community. We can develop, optimize, and promote our content in one place…with ease.
Q. How does PitchEngine's effectiveness compare to the traditional methods of distribution you used in the past?
A. Other methods pale in comparison…and to be honest, we've not looked back!
The blog post was written by Laurie Mahoney of Cision and the original can be found
here
.