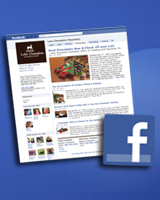 In the spirit of madness,
PitchEngine
is unleashing one of their most popular products free with a one-year subscription.
PitchEngine's
Newsroom for Facebook
has been a smash-hit since it launched just a few weeks ago, so we've decided to make it easy for our users to take advantage.
"We're amazed out how many brands jumped on board and it's awesome to see the growth," said Jason Kintzler, PitchEngine's Founder and CEO, "This promotion makes the the decision a "no-brainer" for companies who have yet to take their Facebook Brand Pages to the next level."
Users are loving the layout, especially with Facebook's recent changes.
@tonyskyday:
"The @pitchengine Facebook newsroom looks even better with the new Pages layout. Check out @Access_America_'s:
http://on.fb.me/dYXjbY
"
Brands who sign up for any PitchEngine one-year subscription (unlimited pitches or newsroom account) will receive access to the Facebook Newsroom app free. To get started, simply drop us an email to: subscribe@pitchengine.com or call 307-855-4011 to get set up in minutes!
How does it work? See some examples of how brands are making their Facebook pages more functional with the PitchEngine newsroom app.
Here are a few of our favorites:
Consumer:
Lake Champlain Chocolates
Sierra Trading Post
BLACKHAWK!
B2B:
Brocade
Agencies:
Vivaki
Arketi Group