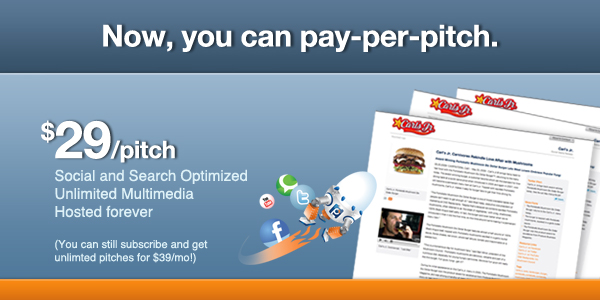 PitchEngine,
a social PR platform that enables businesses to get the word out using social and search optimization, launched a new "pay-per-pitch" option today.
Based on ample user feedback, PitchEngine decided to add the new option to accompany the already popular subscription service.
"The reason for the addition is twofold," said COO, Fabian Lobera, "It gives our less frequent users a hosting option for individual releases, while positioning our product directly alongside offerings from wire services like PRWeb."
At $29 per pitch, PitchEngine is one of the most affordable ways to attain search engine optimization for individual press releases. (Competing services charge $80 or more with no photo or video integration).
"Not only is it a bargain, it's the only mainstream service that lets user embed photos and videos at no extra cost," said Lobera.
PitchEngine still offers a free service as well as their standard $39 per month subscription for unlimited content.
The social PR platform also changed their Newsroom for Facebook product pricing to an annual subscription rate of $220/year.
Learn more about "pay-per-pitch" and
sign up here.
Founded in 2008, PitchEngine now serves more than 30,000 brands worldwide including many Fortune 500 companies.