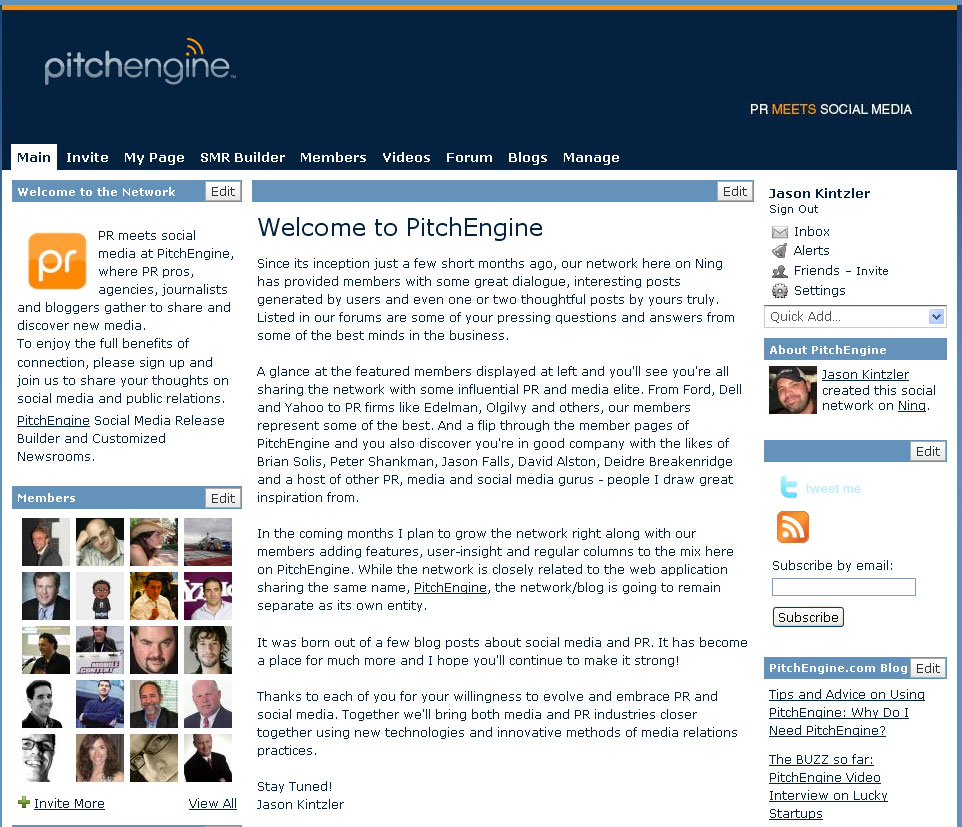 23rd October 2008 - The
PitchEngine Network
tipped past 1,000 members last night as eight more members added their insights and experience to the mix in the first community for PR and media pros exploring social media and their professions.
Since its inception just a few short months ago, the Ning-hosted community has provided members a place to network, share interesting posts generated by users, and even one or two thoughtful posts by the site's founder, Jason Kintzler.
A glance at the featured members reveals some of the most influential PR and media elite. From Ford, Dell and Yahoo to PR firms like Edelman, Olgilvy and others, members represent some of the best. And a flip through the member pages of PitchEngine displays some valuable contacts including Brian Solis, Peter Shankman, Jason Falls, David Alston, Deidre Breakenridge and a host of other PR, media and social media gurus.
"These are all people I draw great inspiration from," said Kintzler.
While the network is closely related to the web application sharing the same name,
PitchEngine,
the network/blog remains a separate piece of the puzzle and its own entity.
"It was born out of a few blog posts about social media and PR. It has become a place for much more and I hope you'll continue to make it strong," explained Kintzler.
"Thanks to each of you for your willingness to evolve and embrace PR and social media. Together we'll bring both media and PR industries closer together using new technologies and innovative methods of media relations practices," said Kintzler.