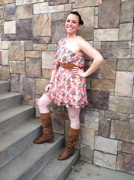 "I think my favorite thing about seasons changing is the opportunity to look different. I love the prairie look in the summer, but for the fall and winter I love giant sweaters and crochet beanie hats. And year round, there's always that common theme of having a dress that sparkles!" - Taylor Swift
Katelyn's style is sweet and sophisticated. The elements of her outfit remind us of a beautiful spring garden. The one-strap draped floral dress and patterned tights give us a fresh glimpse into what the next season is all about: colors and prints!
She accentuates her waist by wearing a belt, and we can't help but notice how it perfectly compliments the boots. The feather earrings add more color and help bring out that beautiful smile! Overall, the outfit fits together perfectly. Add a cardigan for a look that is great for the changing temperature of spring.
Forever 21 dress: $10
Target belt: $6
Rocket Dog boots: $20
H&M tights: $4
Forever 21 earrings: $4
Total Cost: $44
Come into Plato's Closet and have Katelyn create a similar look for you!