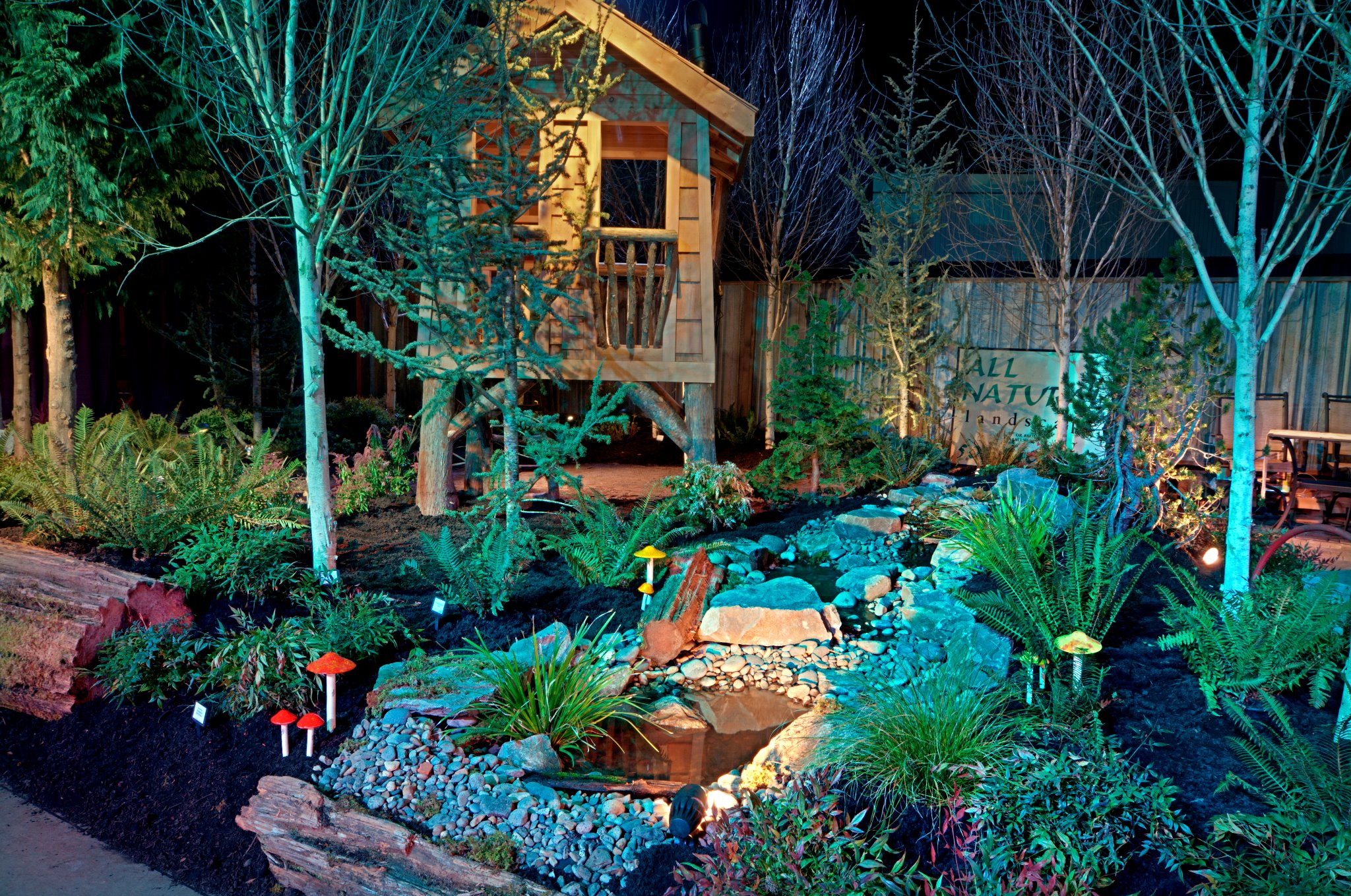 Portland, Ore. — Once again the Portland Home & Garden Show has invited the top landscapers in the Northwest to create gardens of brilliance and distinction – all inside at the Expo Center. The show will host more than a dozen landscape experts and designers. Visit the Portland Home & Garden Show, this February 22 through 26 – to learn more visit www.OTShows.com.
The Showcase Gardens are back with amazing landscapes constructed by some of the top garden designers and artists in the Northwest. It will take more than a week to build all 12 huge gardens inside the Expo Center. Tons of dirt, rock, bark and plants are trucked into the building and construction begins. With 14 total garden displays (including additional gardens surrounding the Smart Home Remodel in Hall D and Devolution Home in Hall E) to tour, here's a chance to see new designs, color trends, hardscapes, materials and plants of special interest. Each year the Portland Home & Garden Show strives to bring a variety of gardens representing all homeowner wants and desires for the perfect backyard, or front yard entry.
The Showcase Gardens Return!
Shultz + Long with ideabox and IKEA – Something Modern – In a first ever partnership, IKEA will be providing the interior furnishings and outdoor living look for one of the most modern homes ever pre-constructed – the ideabox! Plus the home will be surrounded by an ultr-modern and cool landscape design by Shultz + Long. The landscape will feature concrete decking, curbed steel retaining walls, steel plates with cedar board screens, and a fireplace that melds rusted steel with stainless steel – creating an outstanding focal point for the gardens.
www.ideabox.us, www.Ikea.com, www.shultzandlong.com
All Natures Landscaping - On The Inside Looking Out - With the internet, iPhones, and all the devices that speed up life and make life more manageable, we invite you to come on over to our home and garden and relax. Go ahead and come in. Look out the windows and escape the fast pace of everyday life. This could be your own garden oasis. Here you can take off your shoes, kick up your feet, enjoy a glass of wine, and browse through a book while listening to the birds chirping and the elegant sounds of a babbling brook. Spring is in the air. The smell of Daphne blooms and the rustling of foliage flutter through the air. You take a deep breath and enjoy the atmosphere that is tickling your senses. For a moment you are home… www.allnaturesconstruction.com
Naturescapes & Watergardens presents Bonsai Miria – Each year – designer and company owner Tom Ashe creates a splendid example of northwest landscaping built for a retreat or sanctuary in a backyard. This year Ashe is partnering with one of the region's top bonsai artists, to bring in some bonsai (some as old as several hundred years), to grace his garden and add in a Japanese influence. There will be a patio with outdoor furniture, a gorgeous and tranquil waterfall and feature, plus outdoor lighting, the sounds of birds chirping in the background, and of course the bonsai trees graceful presence in the garden structure. www.naturescapesandwatergardens.com
Bamboo Man – Each year the Bamboo Man creates some of the most elegant and gorgeous Japanese gardens you'll ever see at a show. Jim Grandy is a specialist in using bamboo, erecting amazing screens, water elements, and rock gardens. Expect to be amazed and inspired by this artisan. www.thebambooman.com
Hays & Associates – Considered one of the top artisans and landscape designers for his distinct style, Jack Hays always intrigues and amazes each year he participates at the Portland Home & Garden Show. He creates amazing garden art, sculptures, and landscapes that defy the imagination.
American Rhododendron Society - Rhododendrons from Around the World – The Society will be bringing in dozens of species from all around the world. Including some amazing specimens from the tropics (yes tropical rhodies), variegated species, big leaf species and even some in bloom. The Society wants patrons to know that there are more than 900 species and 20,000 hybrids the world over, and it's a great hobby and gardening focus. As they like to say – this should be the City of Rhodies – as they were the very first society ever created in the U.S. – right here in Portland. www.rhodies.org
Green Leaf Design & Autumn Leaf Landscaping - A Sustainably Hip Garden – As a sign of the times, our garden is an eclectic mix of modern, rustic, and organic. Designed by Green Leaf Design, LLC, creative use of reclaimed wood and metal will create the foundation for this hip outdoor living space. The space is defined by a series of interlocking columns and cubes that you can sit on, hide behind or appreciate as art. Landscape construction by Autumn Leaf Landscaping will include lush plantings surrounding gabion columns and benches (metal mesh boxes filled with stone). To create a cozy room like atmosphere, 6' high stamped garden walls manufactured by Redi Pour surround the space, while a built in water feature will provide the tranquil sound of water. Keep warm in front of the fire pit or imagine your next party at a big farm style table set under a sea of party lights. As you enjoy the garden you will also see an artful installation by Zoe Bacon and imaginative metal work by Bu-Kai Design. Enjoy! www.gllandscapedesign.com
Cornerstone Hardscapes – Backyard Captivation - Designed by Creative Garden Spaces and construction by Cornerstone Hardscapes. This is an idea of bringing family and friends together in a fun but, relaxing outdoor space and to give kids and grownups alike a place to play. On entering the space you come upon a scaled down version of a Bocce Ball Court. There is an outdoor kitchen and dining area covered by a cedar pergola with a beautiful farm table that allows for lively conversation. The pergola is draped with fabrics to soften the harshness of the paving and structure. There are accents of Tangerine as you move through the garden; the table settings, accent pillows, garden ornament. Close by is the soothing sound of water that comes from a decorative vase and spills into black Mexican pebbles. There is a stone firepit just a few steps away from the dining area. The garden is highlighted with low voltage outdoor path and accent lighting.
www.creativegardenspacesnw.com
Southwest Landscape - Hidden Retreat - Come and explore this outstanding example of outdoor living – all within a sunken outdoor living room. You'll be treated to a retreat that features a fireplace and water feature combination that is a must see at the Showcase Gardens, plus comfortable furnishings perfect for a comfortable northwest experience, and be ready for some color with forced bulbs and delightful flowers. This garden will also be handicapped accessible showcasing easy access and smart planning. Southwest Landscape would like to thank Valley Landscape for the hardscape and rock materials and Oregon Outdoor Lighting for the gorgeous lighting, and of course their employees for putting in the time and effort for the show! www.swlandscape.biz
Earthworks (Brett and Rod Kacalek)