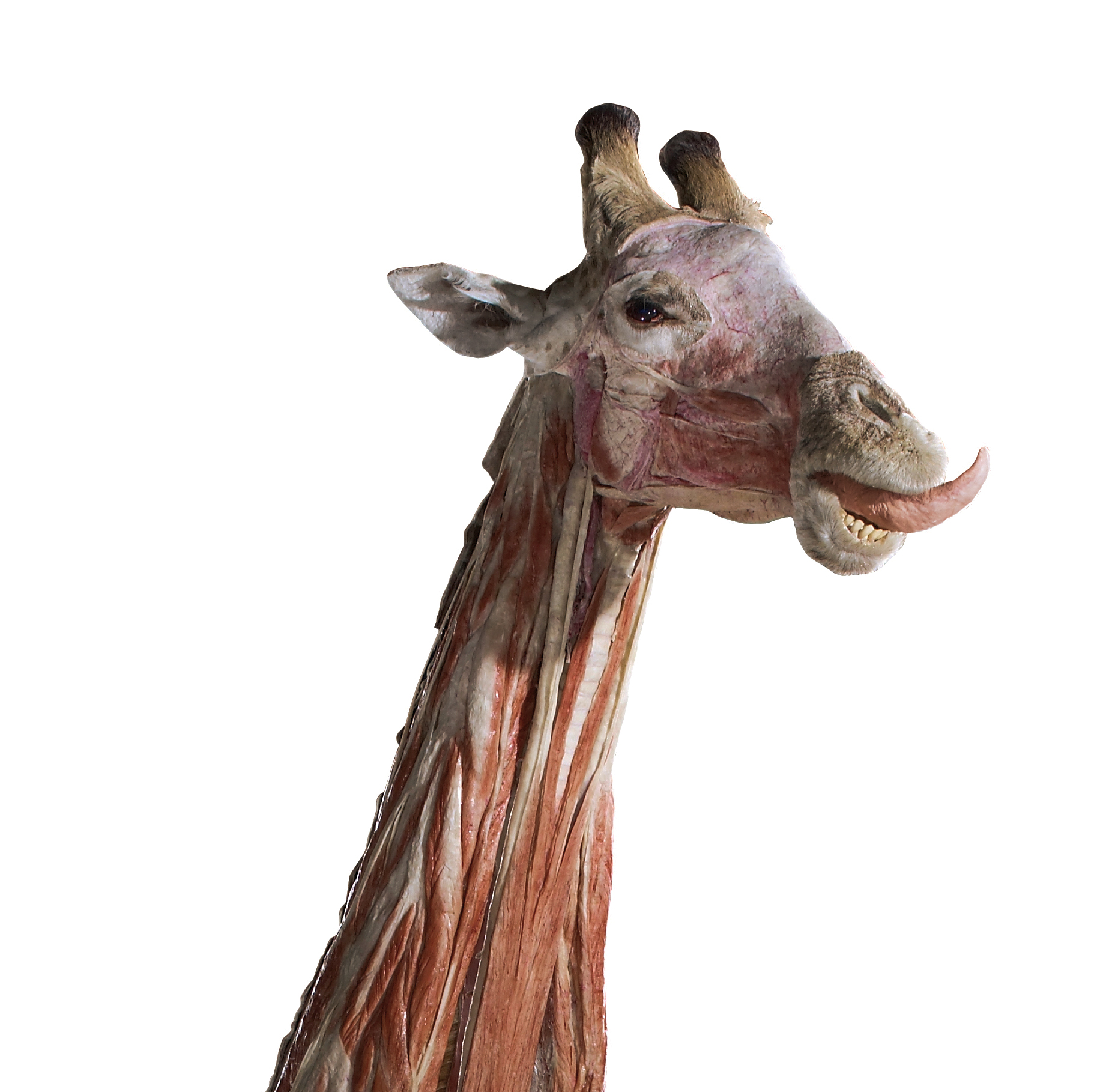 Bill Walton would have to stand on Shaq's shoulders to look him in the eye. Gene Simmons would be jealous of his 18-inch tongue. And he's four times heavier than the largest Biggest Loser contestant.
At 16 feet tall, tipping the scales over one ton, and with its midsection and neck opened to reveal muscles, circulatory system and internal organs, the giraffe stands at the end of the featured exhibit hall as a surprising grand finale.
"He's definitely a crowd pleaser," said Shelly Fritzler, BODY WORLDS Exhibition Director. "I hear people gasp when they come around the corner and see him."
The authentic, one-of-a-kind plastinated giraffe specimen is part of Gunther von Hagens' BODY WORLDS & The Brain, now for a limited time at the Oregon Museum of Science and Industry (OMSI) in Portland, Oregon. The popular exhibition, with the BODY WORLDS 3 exhibit in 2007, have drawn more than 500,000 visitors to OMSI.
The giraffe joins more than 200 authentic human specimens in the exhibit—including 25 full-body plastinates, individual organs, and transparent body slices—all preserved for study through Dr. von Hagens' revolutionary Plastination method.
"Our mission is knowledge about the human body," said Dr. Angelina Whalley, creative and conceptual designer of Gunther von Hagens' BODY WORLDS exhibitions. "By including animal specimens we can demonstrate the similarities between humans and other creatures."
The giraffe was donated to the Institute for Plastination by a zoo in Germany, where it was euthanized after a severe leg injury. BODY WORLDS visitors, particularly children, are fascinated by the giant specimen. "Kids in school groups often say the giraffe is their favorite part of the exhibit," said Fritzler. "They sign the visitor guest book with comments like 'that giraffe sure was tall!' and some draw pictures of it." Adult comments about the giraffe include "Beyond amazing," and "It was mind blowing, especially the size of its heart."
During plastination, the bodily fluids and soluble fat of the 2200-pound giraffe were replaced with reactive resins and elastomers (such as silicon rubber and epoxy) through a vacuum process. Later, gas, heat, or light cured the specimen to assume rigidity and permanence. A total of 22,583 hours were required to complete the specimen--15 times the hours necessary to create a human, whole-body plastinate.
The plastination process for an animal so large and unusual posed some challenges. "There was not sufficient anatomical knowledge available for planning the dissection," stated Dr. von Hagens. "Images and drawings about giraffe anatomy cannot provide the exact anatomical features. Everything was approximate compared to the real thing. There were many questions that were not answered in anatomy books, especially regarding the connective tissues, muscles, tendons and ligaments."
Dr. von Hagens made several unexpected scientific discoveries during the dissection, including a never-before known aspect of giraffe anatomy: blood vessel distribution patterns showed that more blood was directed to the areas beneath the animal's dark spots. "More blood vessels means that the dark patches of the fur of the giraffe helped to cool it off," he said.
Other interesting qualities Dr. von Hagens noted while preparing the specimen included "a very small brain, long beautiful eyelashes, and a huge heart."
The giraffe's 22 pound heart--exposed so that visitors can examine it clearly--worked hard to produce sufficient blood flow to the brain against gravity, and valves in the giraffe's neck regulated blood flow to prevent brain damage when the animal lowered its head to drink.
The giraffe and human specimens in Gunther von Hagens' BODY WORLDS & The Brain will be exhibited at OMSI until March 4, 2012. OMSI is located at 1945 SE Water Avenue, Portland, Oregon.
To purchase tickets, visit www.omsi.edu.