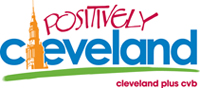 Cleveland, Ohio - Winter in Cleveland Plus is about more than just sweaters, scarves, mittens and boots. Winter is a time to experience the best of the season in a region that truly embraces the weather. So, whether they're racing down a 1,000-foot-long ice chute or cheering on the city's ice hockey team, visitors should know there's no better time to experience the unexpected side of Cleveland Plus than in the wintertime.

THE GREAT OUTDOORS
From the tranquility of ice fishing on Lake Erie to the exhilaration of snowshoeing through Lake Metroparks, wintertime visitors to Cleveland Plus know that this is no time to stay indoors.

Cross Country Skiing + Snowshoeing - Using special snowshoeing footwear to walk over the snow or cross country style skis to glide across the countryside, visitors can check out all the pretty sights of Lake Metroparks in a unique way. Located east of Cleveland, this metropark system offers the best in cross country skiing and snowshoeing at its Chapin Forest Reservation, Girdled Road Reservation and Penitentiary Glenn Lodge. Rentals are available at the Pine Lodge Ski Center.
440.639.7275, www.lakemetroparks.com

Feed the Chickadees - For families looking for a truly unique way to bond with nature, head over to the Cleveland Metroparks Brecksville Reservation to hand-feed real, wild chickadees and other small birds. This remarkable and educational experience is available at no charge on Saturdays and Sundays from 10am-noon during January and February. We recommend wearing gloves.
216.635.3200, www.clemetparks.com

Ice Fishing - Fishing enthusiasts shouldn't let the winter weather stop them from enjoying their favorite pastime. Ice fishing for perch and walleye on Lake Erie is a unique and fun way to experience the winter in Cleveland Plus. For those looking to ice fish largemouth bass, set up shack at Wallace Lake, Beyer's Pond or Hinckley Lake - all a part of the Cleveland Metroparks.
216.635.3200, www.clemetparks.com

Ice Skating - Grab your ice skates and slide on over to the Rink at Wade Oval, a unique polymer-surfaced ice skating rink located in University Circle. Each year, more than 20,000 visitors come to skate, take-in the wintry Wade Oval Circle and enjoy a coffee or hot chocolate from the concession stand. Visit through Jan. 3, 2011 to experience the WinterShow activities at the adjacent Cleveland Botanical Garden.
216.707.5033, www.universitycircle.org

Skiing, Snowboarding + Tubing - Boston Mills/Brandywine Ski Resorts offer two resorts for the price of one. Standing as Ohio's largest ski resort, Boston Mills/Brandywine boasts 19 slopes, 16 lifts with snow tubing, skiing, snowboarding, snowblading, terrain parks and 100 percent snow coverage.
800.875.4241, www.bmbw.com

Tobogganing - This winter, experience the thrill of tobogganing at The Chalet in Mill Stream Run Reservation in Strongsville. The two 1,000-foot-long refrigerated ice chutes operate with or without snow the day after Thanksgiving through the first weekend in March, weather permitting.
216.635.3200, www.clemetparks.com

SNOW DAYS AT PROGRESSIVE FIELD
For the first time ever, Progressive Field opens its gates to the public during the offseason to present Snow Days, a family-friendly wintertime-themed adventure park right on the field. Progressive Field is the first major league stadium to present something like this to the public. Each day, the Cleveland Indians will blanket Progressive Field with 150 tons of snow, which will result in more than 5,000 tons of snow over the course of the event.

This unique outdoor event features snow tubing down the Batterhorn, a 10-lane hill beginning at the top of the field's bleacher seats (eight adult lanes and two children's lanes), ice skating on a quarter-mile frozen ice skating rink, a snow mountain for kids to play, walking trails with festive lights through the outfield, a snow maze and a fire pit with concessions on the Home Run Porch.

General admission is $5 with add-ons for ice skating, tubing and family packs. Group outings and party rentals are available. Snow Days is open every day Nov. 26 - Jan. 2 including Christmas Eve, Christmas Day, New Year's Eve (featuring fireworks) and New Year's Day.

For more information, call 216.420.HITS or visit www.indians.com/snowdays.

LAKE ERIE MONSTERS HOCKEY
With the wintry weather comes a whole new season of sports in Cleveland Plus with high-energy basketball action from the Cleveland Cavaliers and Cleveland State University. But nothing really says "winter" quite like ice hockey. And this year presents another action-packed season from the Lake Erie Monsters professional ice hockey team.

A primary affiliate of the Colorado Avalanche in the American Hockey League (AHL), the Monsters are led by all-star goalie Tyler Weiman. The fast-paced high-octane games are held at Quicken Loans Arena are a fun and appropriate way for kids of all ages to embrace this great winter sport.

For more information, call 216.420.0000 or visit www.lakeeriemonsters.com.

WINTER SURFING IN LAKE ERIE?!
For visitors looking to experience the ultra-extreme side of Cleveland Plus, consider surfing in Lake Erie - in 20-degree weather that is. While most folks would rather be running for the fireplace then taking a dip in the frigid lake, Lake Erie surfers know that winter is primetime for catching some serious wave action with the prevalence of intense winds from the region's strong winter storms. It's also becoming increasingly more popular as the lake is generally wide open in the winter, so surfers have the place to themselves - the most happening surf spot being Edgewater State Park on the near-west side of Cleveland.

And, the idea is catching on. Scott Ditzenberger, a local surfer and film buff, combined his two passions and created a documentary about surfing in Lake Erie. The film is called "Out of Place: A Portrait of Surfing in Cleveland, Ohio" and premiered during the 2010 Cleveland International Film Festival.

TAKE THE SURFING INDOORS
Wintry weather is no excuse to postpone a family vacation. Head to one of four indoor waterpark resorts in Cleveland Plus to experience summertime weather all year-round. Located in Sandusky, which is 60 miles west of Cleveland, these indoor waterparks offer waterslides, pools, activity areas and surfing. Complete with unique overnight accommodations, restaurants, lounges, amenities and other indoor activities for families, these resorts provide theming that takes kids from an African safari to a Caribbean adventure.

Castaway Bay - A member of the Cedar Point Amusement Park family, Castaway Bay is a Caribbean-themed indoor waterpark resort featuring a lush, year-round tropical paradise for the whole family. Inside this elaborate enclosed waterpark there's a five-story wet play structure, wave pool and water roller coaster surrounded by palm trees, huts and inland lagoons. Numerous dining options, children's activities and luxury spa services are available.
419.627.2106, www.castawaybay.com

Great Wolf Lodge - Great Wolf Lodge is a first-class, full-service, year-round family destination resort designed to capture the atmosphere and adventure of the northwoods. Great Wolf Lodge includes a 41,000 square-foot indoor entertainment area, featuring a grand scale waterpark, spacious outdoor pool, arcade with ticket redemption, children's craft and activity room, two family restaurants, and much more.
419.609.6000, www.greatwolflodge.com

Kalahari Waterpark Resort and Convention Center - Kalahari Waterpark Resort is America's largest indoor waterpark. Inside the massive 173,000-square-foot indoor waterpark, guests can experience indoor surfing and a unique uphill water roller coaster ride. Guests also can check out a full service spa, numerous restaurants and bars, kids activities, candy and sweet shops and mini golf.
877.525.2427, www.kalahariresort.com

Rain - Rain indoor waterpark offers a smaller, affordable waterpark setting that features a 50-foot tower with two giant slides and a play structure with additional slides and water activities. The Rain complex also includes a 32-lane state-of-the-art bowling center, laser tag, an arcade and great eats.
419.626.6761 or 800.654.3364, www.cedarpointareahotels.com

COZY, WINTER DINING
Winter is the perfect time to snuggle up next to a warm fire and fill-up on your favorite comfort foods. Cleveland Plus offers a bevy of cozy eateries sure to warm your spirits.

Blue Canyon Kitchen & Tavern - This restaurant, where rustic meets elegant, is designed to resemble the grand lodges found in America's great national parks. Enjoy the great fieldstone fireplaces, antler chandeliers and a wall of glass to view the rolling hills and valleys. The menu features creative American cuisine.
330.486.2583, www.bluecanyonrestaurant.com

Cabin Club - Steak lovers rejoice! This Westlake steakhouse, located just west of Cleveland, is a local favorite set in a timber-framed log cabin that was built shortly after World War II. The menu includes juicy steaks, fresh seafood and an award-winning wine list.
440.899.7111, www.hospitalityrestaurants.com/cabin.php

Corks Wine Bar - Located in historic downtown Willoughby, Corks is modeled after the classic wine bars of Europe and provides an atmosphere of warmth and casual elegance. Enjoy heavy hors d'oeuvres and choose from their collection of more than 60 wines, champagnes and ports by the glass and bottle.
440.918.9463, corkswinebar.com

John Q's Steakhouse - Warm lighting, cozy booths and a menu featuring the finest in steaks, lamb, pork and seafood create an exquisite setting to enjoy food comfortably. The menu features only Certified Angus Beef including its porterhouse, strip steak, bone-in filet and rib eyes.
216.861.0900, www.johnqssteakhouse.com

Ken Stewart's Lodge - Located in Bath, this restaurant has the perfect cozy, romantic atmosphere. Dine in one of their intimate booths while feasting on truffle fries, filet mignon and Mediterranean salad.
330.666.8881, www.kenstewartsonline.com/lodge

Sokolowski's University Inn - Run by the third generation of Sokolowski family members, the University Inn is famous for its Polish menu featuring pierogi, bratwurst, cabbage and noodles and the kind of food that grandma used to make.
216.771.9236, www.sokolowskis.com

The Woods - Fittingly named `The Woods,' this Rocky River restaurant is covered in cherry, oak, black walnut and chestnut wood as lush greenery hangs delicately from the ceiling. The menu offers hearty Italian and American fare.
440.333.WOOD, www.thewoodsrestaurant.com

Washington Place Bistro + Inn - The restaurant at the Washington Place Bistro & Inn offers modern American cuisine featuring local cheeses, produce and meats. Enjoy their eclectic, yet affordable wine or a signature cocktail in the newly renovated lounge in the comfort of the Little Italy neighborhood.
216.791.6500, www.washingtonplacelittleitaly.com

INSIDE AND OUT: WINTERTIME EVENTS

Now - Sept. 4: The "Katharine Hepburn: Dressed for Stage & Screen" exhibit at the Kent State University Fashion Museum showcases the screen legend's performance clothes including her stage and film costumes spanning the actress' career, as well as apparel she wore for publicity purposes. Before her death in 2003, she had made clear her collection of performance clothes should be given to an educational institution instead of being sold at auction.

Jan. 2 - 31: Head to the Cleveland Metroparks Zoo for Polar Bear Days. On any day when the mercury stays at or below 32 degrees Fahrenheit, guests receive half off the already reduced winter admission rate.

Jan. 29 - Sept. 5: Experience the real physical, psychological and scientific challenges of travelling to and living on Mars at the Great Lakes Science Center's new exhibit Facing Mars. Test yourself with 28 interactive exhibits as you "walk on Mars", launch rockets and "fly over" the Martian landscape. See and explore compelling artifacts, such as a rare Mars meteorite, and stunning visual imagery.

Feb. 1 - 13: The breathtaking new production of Rodgers & Hammerstein's South Pacific features a cast of 34 and a full orchestra of 26 members - the largest orchestra of any touring Broadway production. Set on a tropical island during World War II, the musical tells the sweeping romantic story of two couples and how their happiness is threatened by the realities of war and by their own prejudices. Enjoy the show at the Palace Theatre in PlayhouseSquare.

Feb. 4 - 27: In 1947 Houston, the elderly Carrie Watts dreams endlessly of visiting her childhood home one last time before it is too late. But she must literally find a way to escape the confines of her overbearing daughter-in-law and son. Both deeply emotional and uplifting, this haunting American classic, performed for the first time by an African-American cast, is an unforgettable meditation on the idea of home and its power to sustain us. A Cleveland Play House premiere-and the first-ever Play House production of a work by Pulitzer-prize and Academy award-winner Horton Foote, check out The Trip to Bountiful.

Feb. 19: Brite Winter 2010, a local festival held celebrating winter on the Cuyahoga River, welcomed more than 800 people during its inaugural year. This year, the Brite Winter Festival, held at the newly created RIvergate Park adjacent to Hart Crane Memorial Park in the Flats, features a bonfire with marshmallows, a wintry mini-golf course, food, beverages and live music all outdoors.

Feb. 26 - March 6: The Greater Cleveland Auto Show is an exciting ten-day event held at the I-X Center that features more than 1,000 production, concept and classic vehicles. This includes domestic and imported vehicles, sport utility vehicles, mini vans and experimental, never-been-seen-before vehicles for enthusiasts alike. In addition to the cars and other vehicles, the auto show features celebrity sports figures and autograph signings.

March 1 - 13: Based on the Oscar-winning DreamWorks film that started it all, Shrek the Musical is part romance, part twisted fairy tale and all irreverent fun for everyone. In a faraway kingdom turned upside down, things get ugly when an unseemly ogre - not a handsome prince - shows up to rescue a feisty princess. Featuring a terrific score of 19 all-new songs, big laughs, great dancing and breathtaking scenery, this Broadway Show will be held at the Palace Theatre in PlayhouseSquare.

March 21 - April 3: The Cleveland International Film Festival features two weeks of more than 250 films originating from nearly 80 countries. Visiting filmmakers, panel discussion and student screenings are all festival highlights.

OVERNIGHT ACCOMMODATIONS
Be sure to check out hotel websites for discounted rates and special packages at www.positivelycleveland.com/visiting/accommodations. Some hotels have special offers during the wintertime and/or offer tickets to preferred attractions.

The Wyndham Cleveland at PlayhouseSuare in downtown Cleveland is offering a not-to-be-missed special this winter with the "Snow News is Good News Package." The lower the outside temperature, the lower your cost for the room. During a two-night weekend stay now through March 27, 2011, a Friday night stay is $109 and a Saturday rate is as low as the recorded temperature outside. So the chillier the weather, the lower the rate. Call 877.999.3223 or visit www.wyndham.com for more information.