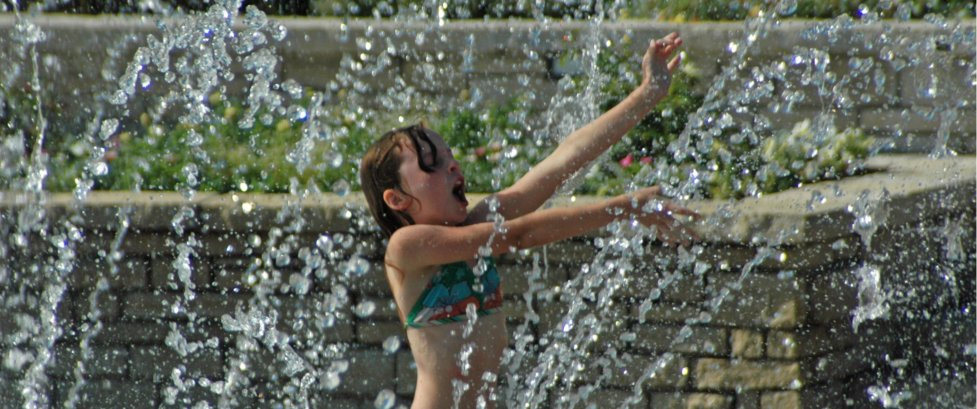 Powell Gardens, Kansas City's botanical garden, is giving visitors an extra incentive to visit during this heatwave. Now through Sunday, July 8, all children ages 12 and under will get in FREE with a special offer posted on the Gardens' Facebook page.
The Gardens also offers these tips for beating the heat while still enjoying the Gardens:
Arrive early. The Gardens open at 9 a.m. and this is the best time to tour the Fairy Houses & Forts exhibit. Bring along water bottles (freeze a partial bottle ahead of time to keep it cold throughout your walk). If you have toddlers, a stroller or wagon will be handy.
Take a break in the Rock & Waterfall Garden. This cool, shady garden has babbling brooks and benches with beautiful views.
Consider a trolley pass. Just a buck gives you all day access (and kids always ride free!).
4. Splash in the Fountain Garden. Bring swim suits, towels and sun screen and have fun splashing where it's not only allowed, but encouraged!
Cool off with a garden-fresh frozen treat. reFresh, the snack shop located in the Heartland Harvest Garden's Missouri Barn, is offering garden-fresh homemade popsicles. Flavors vary with the daily harvest, with flavors such as Blackberry Fennel, Basic Peach, Plum Shiso, Peach with Raspberries, Peach with Blackberry Swirl and Chocolate Raspberry.
Powell Gardens is open 9 a.m. to 6 p.m. daily, including on July 4. For more information, visit Powell Gardens' website at www.powellgardens.org.