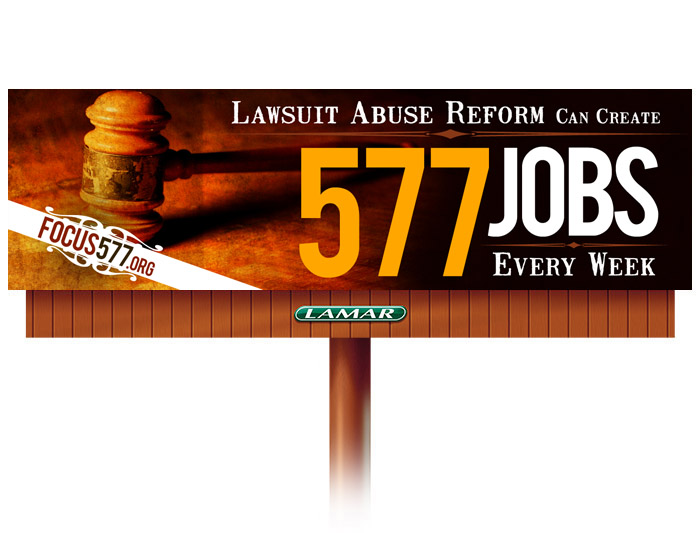 NEWS FROM HART PUBLIC RELATIONS
For more information, contact: Susan Hart, 615-642-0800, shart@hartpr.com
May 2012
NASHVILLE, TN – Hart Public Relations recently was honored by the Nashville Chapter of the Public Relations Society of America (PRSA) with a Parthenon Award in the Public Affairs category, the highest honor in the annual awards competition, for the 2011 Campaign for Lawsuit Abuse Reform. This year's awards were judged by the Omaha, NE, chapter of PRSA.
The Beacon Center of Tennessee (formerly the Tennessee Center for Policy Research) partnered with Hart Public Relations to develop and implement a statewide public relations strategy to educate Tennesseans about the benefits of lawsuit abuse reform, more commonly known as tort reform, including new jobs, decreased insurance premiums for malpractice coverage, increased access to healthcare in rural areas and greater predictability to the state's civil justice system.
With the key message of Tennesseans Need More Jobs, Not More Lawsuits, the public relations strategy included white papers, independent polls, publicity, social media and ads, tort reform was successfully passed with full bi-partisan support.
The three-month campaign resulted in bi-partisan passage of legislation that went into effect October 1, 2011. "This award further is further proof that our efforts were effective, and Hart Public Relations played a major role in this victory," said Justin Owen, president of the Beacon Center.
Since its passage, state lawmakers also are discussing assessing fines for frivolous lawsuits and other matters of reform to make the Volunteer State more competitive and business friendly.
ABOUT HART PUBLIC RELATIONS
Founded in 2001, Hart Public Relations was founded by Susan Hart, APR, who has more than 30 years of professional experience in public relations in the corporate, agency, academic and nonprofit sectors. Beginning her career as a reporter, she now works as an independent practitioner with clients ranging from national level service providers and retailers to entrepreneurial start-ups and nonprofits. Hart is accredited by the National Public Relations Society of America and recipient of multiple awards for her work and leadership. She is a member of the Public Relations Consultants Group, Inc., a national affiliation of public relations firms. For more information about Hart Public Relations, visit www.hartpr.com.