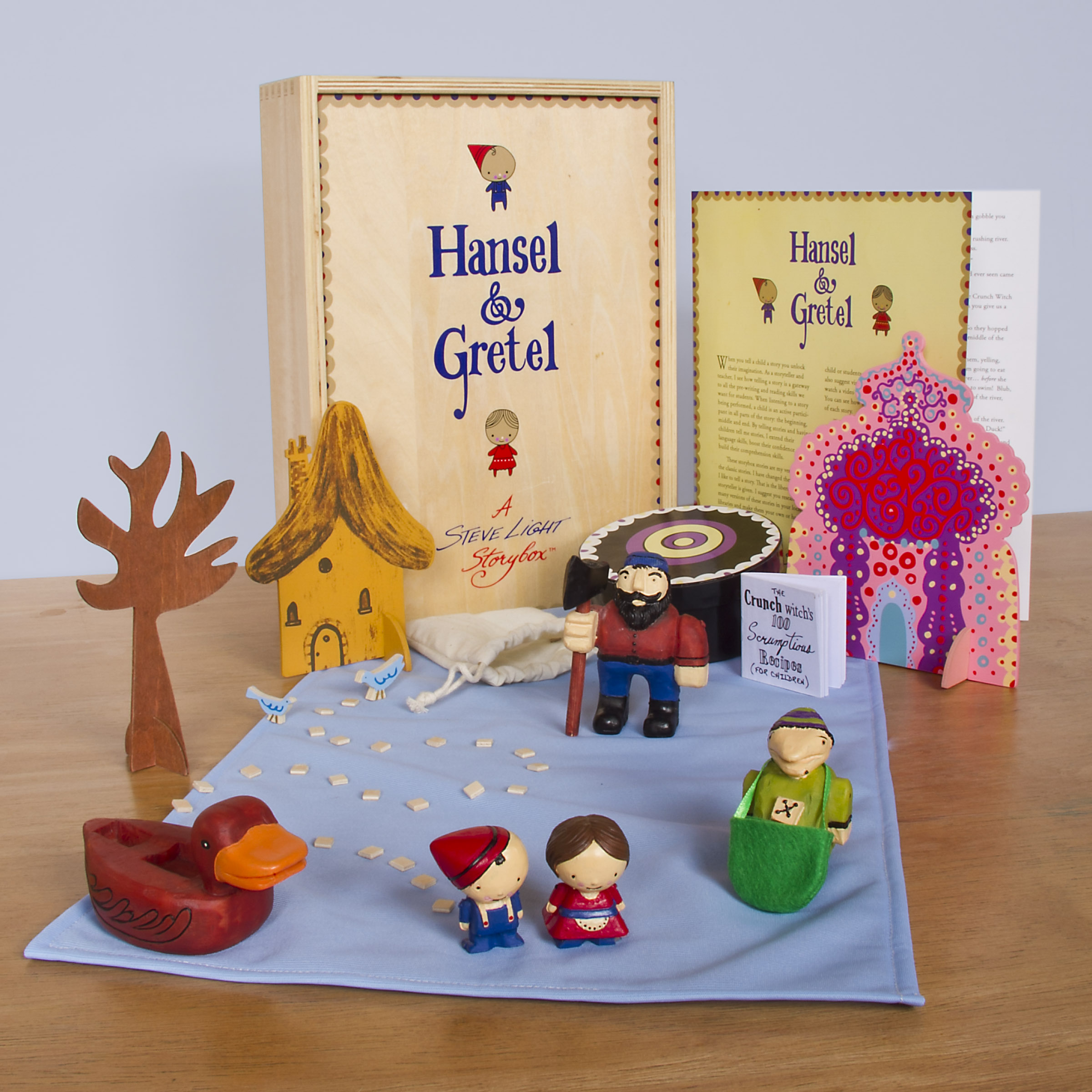 Kids love stories, and what could be more fun at playtime than stories that come to life? Author, illustrator, storyteller, and pre-K teacher Steve Light has teamed up with educational toy manufacturer Guidecraft to create Story-boxes based on classic stories from around the world. Each beautifully-crafted wood Story-box, containing hand-painted characters, props, and settings, will inspire creative play and send kid's imaginations soaring.
Storytelling and make-believe play a crucial role in child development, forming the basis for language comprehension and subsequent reading skills. With Steve Light Story-boxes, kids can use the beautifully-detailed miniature figures and props to retell stories over and over, acting them out in their own words and creating new stories. The first Story-boxes feature "Hansel and Gretel," "Rapunzel," "Little One Inch" (Japan), and "The Girl Who Loved Danger" (Congo).
Light, who often dramatizes stories for his students, says the idea for Story-boxes started when he carved two tiny figures of Hansel and Gretel and acted out the story in class using the small wooden characters. "The children asked, 'Where is the witch, and the cottage, and the father?' I went home and carved all the other characters and props, put them in a wooden box, painted a 'title' on the box, and Story-boxes were born."
Perfect for home and classroom, each Story-box features characters, props, and settings cast from Light's hand-carved originals, along with a booklet containing his original retelling of the story. In addition to the main characters, each Story-box contains unique elements:
- Hansel and Gretel includes a bag of "breadcrumbs," witch's house, cauldron, and recipe book
- Kids can build the tower and thread Rapunzel's long, braided hair out the window
- Little One Inch features a beautifully-detailed Big Fish and colorful Oni Monster
- The Girl Who Loved Danger features a brilliantly-patterned Ancestor Bird and fabric, hand- puppet Lake Monster
Light's appealing art and vivid imagination also grace his board book, Trains Go (Chronicle), which follows the popular Trucks Go. "Each of Light's trains has a distinct personality," writes Publishers Weekly, "and locomotive lovers will clang, chug, and puff along with them as they make their way along the tracks."
Steve Light, www.stevelightart.com, is the author and illustrator of many children's books. His design work can be found in the Smithsonian Cooper Hewitt Museum, and his corporate clients have included AT&T, Sony Films, Absolut Vodka, United Airlines, and the New York Times Book Review. Light lives in New York City.
###
Story-boxes
Created by Steve Light
Manufactured by Guidecraft
July
Ages 4-up
Price Range: $41.16 (on Amazon) to $50.00 (Manufacturer's Suggested Retail Price)

Hansel and Gretel Storybox SKU# G6501
Video demo: http://www.youtube.com/watch?v=9g26q52-SVw&feature=related

The Girl Who Loved Danger Storybox SKU# G6504
Video demo: http://youtube.com/watch?v=Ai_lFls6bEo&feature=endscreen&NR=1

Little One Inch Storybox SKU#G6502
Video demo: http://www.youtube.com/watch?v=Dpvy8TxoqaM

Rapunzel Storybox SKU# G6503
Video demo: http://www.youtube.com/watch?v=C6zXlJiag3w


==========
Trains Go
Written and illustrated by Steve Light
Published by Chronicle Books
Ages 0-4
16 pages
$8.99 board book
ISBN: 978-0811879422