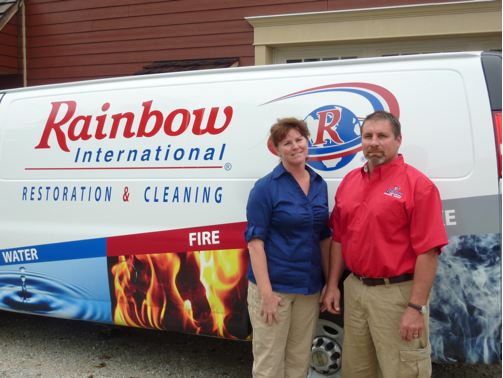 Helping a home or business recover from water, fire, smoke or mold damage requires the latest technology, tools and training. Long-time local business owners Phillip and Jane Perkins also know a human touch is equally important.
The Perkins are the owners of Rainbow International of Peoria, a business offering water, fire, smoke and mold damage cleanup and restoration. Other services include carpet, tile, grout and hard surface cleaning. They have been active in the local business scene for the last ten years as Phillip Perkins Builder, Inc.
"I'm excited to bring the Rainbow International way of offering these services to our area," said Phillip. "Restoration and cleaning work complements our construction business. We come equipped with the best training and equipment but also realize that on many damage restoration jobs, our customers experience an acute sense of loss and displacement. We are mindful of that as we work to quickly restore their home or business and, ultimately, peace of mind."
The Perkins attended a comprehensive learning program at Rainbow International corporate headquarters. The program teaches water, fire, smoke and mold damage cleanup restoration science and techniques.
"Rainbow International brings a new best practices standard to Peoria," Jane added. "We blend high-tech equipment and processes with a 'customers first' philosophy. We don't just clean and restore houses and businesses after disasters; we get families back in their homes and businesses back to work."
"Phillip, Jane and their team are a terrific addition to our growing network," said Rainbow International President Rob White. "We're excited to join the Peoria area and look forward to serving its homes and businesses."
Call Rainbow International Peoria offices at (309) 385-4860, (309) 699-2837 or visit rainbowintl.com/peoria for more information.
##