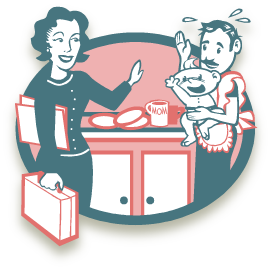 Chicago, IL – Is there a way to have it all? Is it really feasible to have the ability to be mom and a booming business woman? Jill Salzman, creator of The Founding Moms®, has published her first book on this hot topic called "Found It: A Field Guide For Mom Entrepreneurs". Its 50 chapters are brimming with practical advice, tips and tricks to help women fine-tune their self-starter skills and build a successful company.
The Founding Moms® is based on the belief that it's possible for women to be successful in the business world, while also juggling motherhood. Her organization marks the world's one and only kid-friendly collective of meet-ups where mom entrepreneurs meet monthly to talk shop.
Salzman read countless business books in the hopes that she would be able to give her members additional advice that wasn't discussed at The Founding Moms' Exchanges and was sadly disappointed in her findings. She noticed a trend of testosterone-driven how-to-books that didn't cover how to build a business while being a mom. Following this discovery, she believed there would be an audience for the type of book she envisioned: more informative, more educational and more estrogen-driven.
Whether you're already a successful mogul or looking to achieve your entrepreneurial dreams, Salzman's book is just the ticket to make your business dreams come true. Adjusting to the entrepreneurial lifestyle and getting down to business are essential skills that you will learn to acquire with Salzman's help.
"I provide pointers on how to incorporate kids into your daily business routine," Salzman explains. "You will read dozens of mom entrepreneurs' accounts of their adventures in time management and learn why a business plan may not be as important as you thought. Most importantly, help launch your dream, keep it running, and turn it into a thriving business!"
Salzman's book gives you the advice and the belief that you can blend motherhood and business. "Found It: A Field Guide For Mom Entrepreneurs" is scheduled to be released mid-January. To pre-order the book, visit her official website.