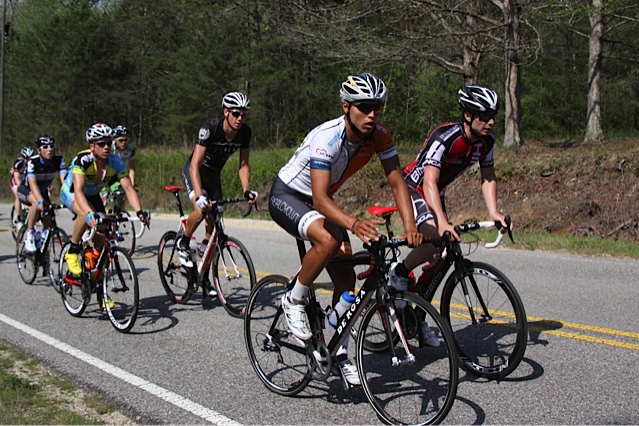 PARK CITY, Utah- Coming off impressive campaigns at the San Dimas Stage Race and Redlands Classic, the
RealCyclist.com Pro Cycling Team
has asserted their presence on the U.S. racing scene by vaulting to first place in the National Racing Calendar (NRC) standings. The Team sits atop the 2011 Men's NRC Team Standings with the Bissell Pro Cycling Team and Chipotle Development squad rounding out the top three spots.
RealCyclist.com's Team captain
Francisco Mancebo
currently holds first in the NRC individual rider rankings with a 77-point lead over Benjamin Jacques-Maynes (Bissell Pro Cycling Team).
Earlier this week, young speedster Cole House continued his winning streak at the Foothills Classic Road Race in Anniston, Ala. House took the top podium spot in an exciting sprint finish, edging out Pure Black Racing's Michael Northey and Kelly Benefit's Daniel Holloway. The Foothills Classic event marked the return of Thomas Rabou to racing action for the RealCyclist.com Team after an early season wrist injury sidelined the Dutch rider.
RealCyclist.com will bring a full rider roster to the
Sea Otter Classic
(April 14-17) this weekend in Monterey, Calif. Racing begins tomorrow with a criterium on a one-kilometer section of the Laguna Seca Raceway. The 68-mile road race will commence Friday, with a time trial slated for Saturday and circuit race Sunday on the event's final day.
All races are held at the Laguna Seca Raceway, with the road race and circuit race featuring a challenging 300-foot-climb and an awe-inspiring descent down the world famous "Corkscrew." The Sea Otter Classic is now part of the Northern California and Nevada Cycling Association (NCNCA) series and NCNCA point system.
RealCyclist.com Pro Team Directeur Sportif Gord Fraser has set the roster for the Sea Otter Classic as: Mancebo, Cesar Grajales, Thomas Rabou, Cole House, Tommy Nankervis, Ian Burnett, Evan Hyde and Mike Midlarski.
Get up-to-date race coverage here:
Facebook
,
Twitter
and
Sea Otter Classic Website
About RealCyclist.com
RealCyclist.com
is the hub for dedicated roadies, the kind who tune their bikes and bodies to absolute perfection. Featuring an interactive online community of cyclists who use the site to share personal feedback on gear through reviews, images, video posting, questions and answers, RealCyclist.com is the digital nexus between riders who value the gear they use and their passion for the sport. RealCyclist.com offers premium road cycling gear from all the best brands in the business. RealCyclist.com is part of the
Backcountry.com
family of stores. Backcountry.com is a controlled subsidiary of Liberty Media Corporation attributed to the Liberty Interactive Group (Nasdaq: LINTA).