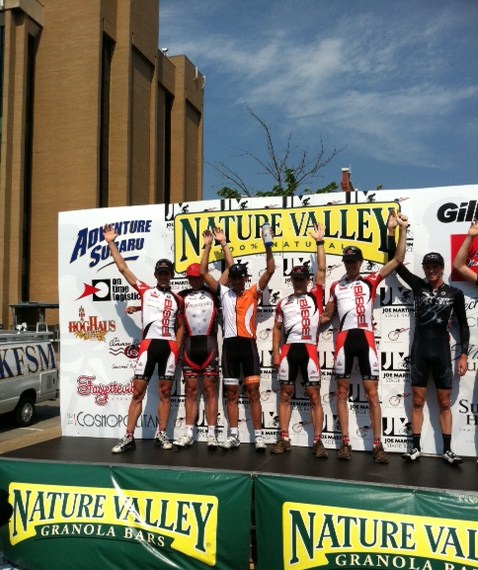 PARK CITY, Utah - After four, long, hot, hard-fought days pounding the pavement at the 34th annual Joe Martin Stage Race (May 5-8) in Fayatteville, Ark., the
RealCyclist.com Pro Cycling Team
remains on top of the National Race Calendar (NRC) standings. A team of eight riders defended the General Classification (G.C.) lead all weekend, with veteran Cesar Grajales riding to a podium spot with a third-place finish. Francisco "Paco" Mancebo still leads the NRC individual rider standings.
"The Team has learned so much this past month about defending a race lead, but unfortunately just fell six laps short on Sunday," said Directeur Sportif Gord Fraser. "I'm really proud of the fight they put up under extreme pressure all weekend long. We will regroup and hopefully have more race leader jerseys to defend throughout the remainder of the season."
Mancebo's opening stage win came in the Individual Time Trial - held on a 4K, uphill course that favored riders with strong climbing skills. Joining Mancebo in the top 10 were teammates Grajales (sixth place) and Ian Burnett (10th). Josh Berry rode to 13th place and was recognized with the U-23 jersey as the best young rider on the stage.
On the final day of racing, Cesar Grajales performed well under pressure to move from sixth to third place in the G.C. With his podium finish, he advanced to fifth overall in the NRC individual standings. Mancebo - who managed to hold on to the leader's jersey for three days - endured well-planned and executed attacks by the competition to end up at seventh overall.
Meanwhile, a few hundred miles away in Charlotte, N.C., RealCyclist.com's Frank Travieso grabbed a victory at the Dillworth Criterium on Day Six of the 2011 USA CRITS Speedweek series.
At the final weekend of racing for the 2011 USA CRITS Speedweek series, five RealCyclist.com riders helped Travieso capture the win at the 38th annual Dilworth Criterium. Travieso made a critical move in the second half of the race, nudging out Raymond Kreder (Chipotle Development Team) at the line by a tenth of a second.
The RealCyclist.com Pro Cycling Team will enjoy its first mini break of the 2011 season and resume racing at the TD Bank Philadelphia International Cycling Championship in Philadelphia, Penn. June 5 (NRC) and Tour de Beauce in Quebec, Canada, June 14-19 (UCI).
For more information, please visit
RealCyclist.com/proteam
.
About RealCyclist.com
RealCyclist.com
is the hub for dedicated roadies, the kind who tune their bikes and bodies to absolute perfection. Featuring an interactive online community of cyclists who use the site to share personal feedback on gear through reviews, images, video posting, questions and answers, RealCyclist.com is the digital nexus between riders who value the gear they use and their passion for the sport. RealCyclist.com offers premium road cycling gear from all the best brands in the business. RealCyclist.com is part of the
Backcountry.com
family of stores. Backcountry.com is a controlled subsidiary of Liberty Media Corporation attributed to the Liberty Interactive Group (Nasdaq: LINTA).