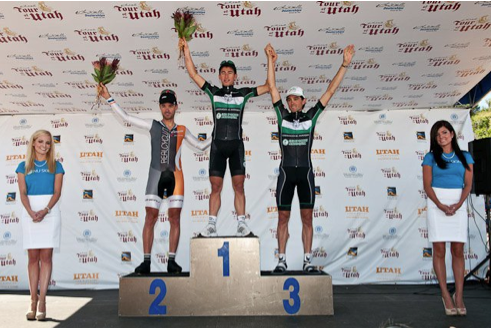 PARK CITY, Utah - The
Larry H. Miller Tour of Utah
wrapped up on Sunday, August 14, 2011, marking the end of the debut season for the
RealCyclist.com Pro Cycling Team
. "America's Toughest Stage Race" lived up to its name and presented a challenging course and stacked competition.
Captain Francisco "Paco" Mancebo started off the event with a strong second place finish in the Prologue, a time trial at the Utah Olympic Park in Park City, Utah. In the following stages, the talent of the field and the intensity of the course made the going tough and the Team found themselves giving their all in a game of catch-up until the very end. The RealCyclist.com Pro Team finished ninth overall, representing with the best Continental team result in the Tour. Two RealCyclist.com riders earned top- 20 finishes in the GC: Mancebo earned 11th and veteran Cesar Grajales came in 13th.
The Team's winning season (RealCyclist.com won five of seven stage major races in which they competed in 2010-11) gave riders the opportunity to develop skills and to start to make a name for themselves in the United States. They earned a strong new fan-base, with a sizeable contingency in Utah, where the team's title sponsor, RealCyclist.com, is based.
"One of the highlights of this year was witnessing the fan support for the RealCyclist.com Pro Team," said Gord Fraser, the Team's Directeur Sportif. "It was especially obvious during Stage 4 on Saturday in Salt Lake. All the orange RealCyclist bam-bams made a sea of orange that the guys had to ride through, and that was really something special."
"It was a great year," said Fraser. "We have far exceeded anything we could have hoped for going into this season. We won five out of seven major stage races in our first year. That's an unheard of win percentage. It's been an incredible debut season for RealCyclist.com and I can't wait for bigger and better things next year."
The Larry H. Miller Tour of Utah was the last official race for RealCyclist.com. Some Team riders will be racing on their own to finish up the year in the USA Crits Championship Series.