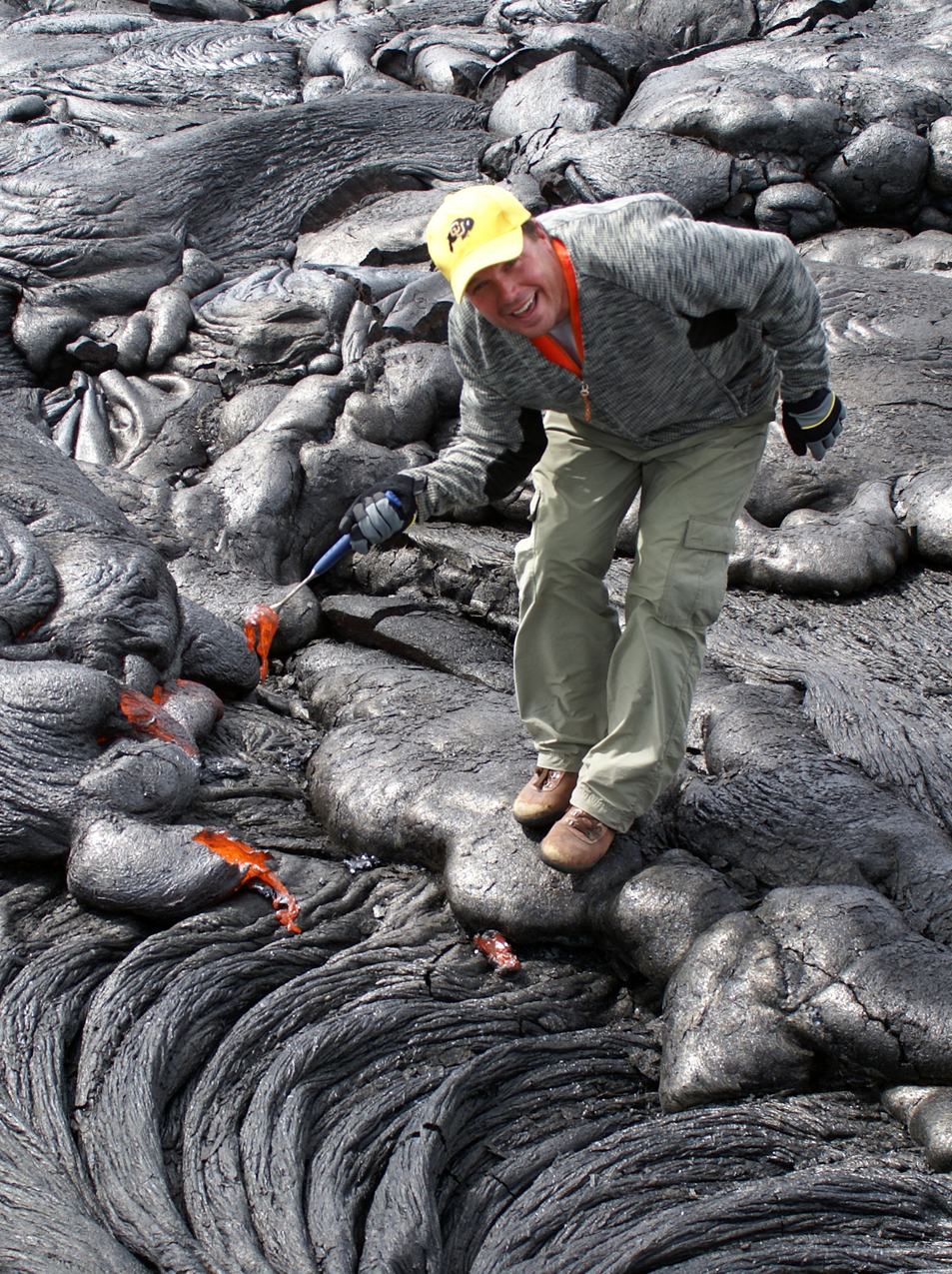 SQUAMISH, BC, January 23, 2012 – While most university students are settling back into their campus classrooms after the holiday break, a group of students from Quest University Canada is engaging in a classroom setting like no other. The Volcanology class at Quest is Hawaii-bound this month (January 20-30) to explore first-hand how a volcanologist conducts research. The trip is a critical part of Quest's commitment to experiential learning, and is enabled by the fact that Quest operates on a Block Plan schedule.
While in Hawaii, students will study and practice the tools of experimental and field research, offering an unparalleled hands-on learning opportunity," says Steve Quane, Physical Sciences Tutor at Quest. "There is no 'simulated' research; the students will be conducting real research on real samples in real field locations. They will use everything from high-tech helium pycnometry to measure density, to a rock hammer to sample an active lava flow. They will acquire the requisite skills and mindset needed to undertake serious research projects of any kind."
Under the Block Plan, students spend three and a half weeks studying one subject at a time, allowing for faculty to arrange such highly productive trips. The first part of the course focused on experimental volcanology in which students ran high-temperature laboratory experiments on natural volcanic materials to determine their fundamental characteristics both at Quest and at the Centre for Experimental Study of the Lithosphere (CESL) at the University of British Columbia (UBC) in collaboration with the UBC Volcanology and Petrology Laboratory.
They then depart for the Big Island of Hawaii where five volcanoes, in different phases of their life cycles, will allow students to witness the evolution of a Hawaiian volcano. They will observe the volcanic systems from birth (sampling active lava flows) to demise (snorkeling amongst fringing reefs on sinking coastlines). They will conduct fieldwork from sea level to the 14,000-foot peak of Mauna Kea.
In a less exotic but equally valuable Block field trip, a group of third- and fourth-year students recently spent time outside the classroom in the Downtown Eastside neighbourhood of Vancouver and within the Gay/Lesbian community of Davie Street, as part of their course Gender, Culture, Identity. Quest tutor Leah Huff is quick to point out that the students were merely observing in a very low-key way, rather than surveying or invading peoples' privacy and space. But the field trip was an opportunity to observe first-hand some of their classroom lessons.
"Over a period of two days, the students had an opportunity to gain valuable insight into applying what they had learned in the classroom setting by visiting the two neighbourhoods, meeting with members of the two communities, and hearing their stories in situ," says Huff. "These field trips usually result in some surprising discoveries as the theory you've learned and the books you've read actually play out in front of you. In the case of this trip, I would say the two conclusions we all came away with – and that somewhat surprised us – were: 1) how much behind-the-scenes work actually goes into creating a "community", and 2) that the Downtown Eastside is a neighbourhood, a real community that offers a lot to its residents, and is not an area that should be feared."
Three more "Blocks" will take place at Quest before the term ends in April. Students will spend time in the classrooms studying a wide range of subjects – some taught by visiting tutors offering classes this spring ranging from Photography to the Earth's Carbon Cycle. Other off-campus classes include a trip to Belize to study international development with Quest economics tutor Jonathan Warner, a study of Winter Hazards in the backcountry with Quest vice president and outdoor leadership expert Toran Savjord, and a Wildlife Ecology course.
Third-year Quest student Calum Matthews, has participated in various experiential learning field trips throughout his three years at the University and cites the Block Plan as one of the key reasons he chose Quest. "My most memorable learning experiences by far have been on these trips," he says. "My Ecology Course focussed on the Great Bear Rainforest which included a trip to the area with our tutor Nobi Suzuki. Every moment of the trip was spent absorbing information from Nobi, the people we met and the places we visited. We saw first-hand how all things are inter-connected, from the tiniest microorganism to the First Nations people who thrive off the land. We saw so many humpback whales that we actually lost count, helping us to visibly comprehend the benefits of a healthy eco system. The trip enabled us to establish a real connection to the people, and gain a deeper understanding of the problems they face in preserving this vital area."
The opportunity for extended trips and day-long excursions without conflicts with other classes is but one advantage of the Block Plan, which is generating interest at other Canadian institutions. [A recent Globe And Mail article on the system quoted Acadia University Biology Professor Marty Snyder's report on a trial of the system at her institution: "everybody came out of it saying, 'this is just a much better way to teach.'" (The Globe And Mail, December 29, 2011)]. The Block also offers the opportunity for professionals, who can't take a semester out of their lives, to spend just a month guest teaching in the classroom. Los Angeles-based photographer Elizabeth Liu is teaching at Quest this month, while choreographer Judith Marcuse will offer a course in Arts for Social Change in February.
Quest holds Preview Events throughout the year for prospective students and their families. The next Preview Events will take place February 17 and March 10. For details visit http://www.questu.ca/AdmissionsEvents.
About Quest University Canada:
Quest University Canada, the country's first independent, not-for-profit, secular university opened its doors in September 2007. Its vision was to build a new kind of university focused on excellence in undergraduate education. Quest's simple philosophy is that education, in its truest sense, comes not from providing the right answers, but from learning how to ask insightful questions. This philosophy has driven the development of a campus and a curriculum focused on producing broadly educated individuals with an informed perspective on the problems of the twenty-first century, and the integrative abilities to address them. Quest's unique approach to learning offers: all seminar classes with a maximum of 20 students, a Block-Plan style of learning in which students focus on just one subject at a time for a month, unprecedented access to faculty mentors, a rigorous Foundation program that spans the arts and sciences, and the ability for each student to shape his or her course of study by posing a unique "Question" that directs the final two years of work. http://www.questu.ca/
- 30 -
Quest Media Relations Contact: Christina Moore, 604-848-8251, christina@reddoorcommunications.ca or media.relations@questu.ca