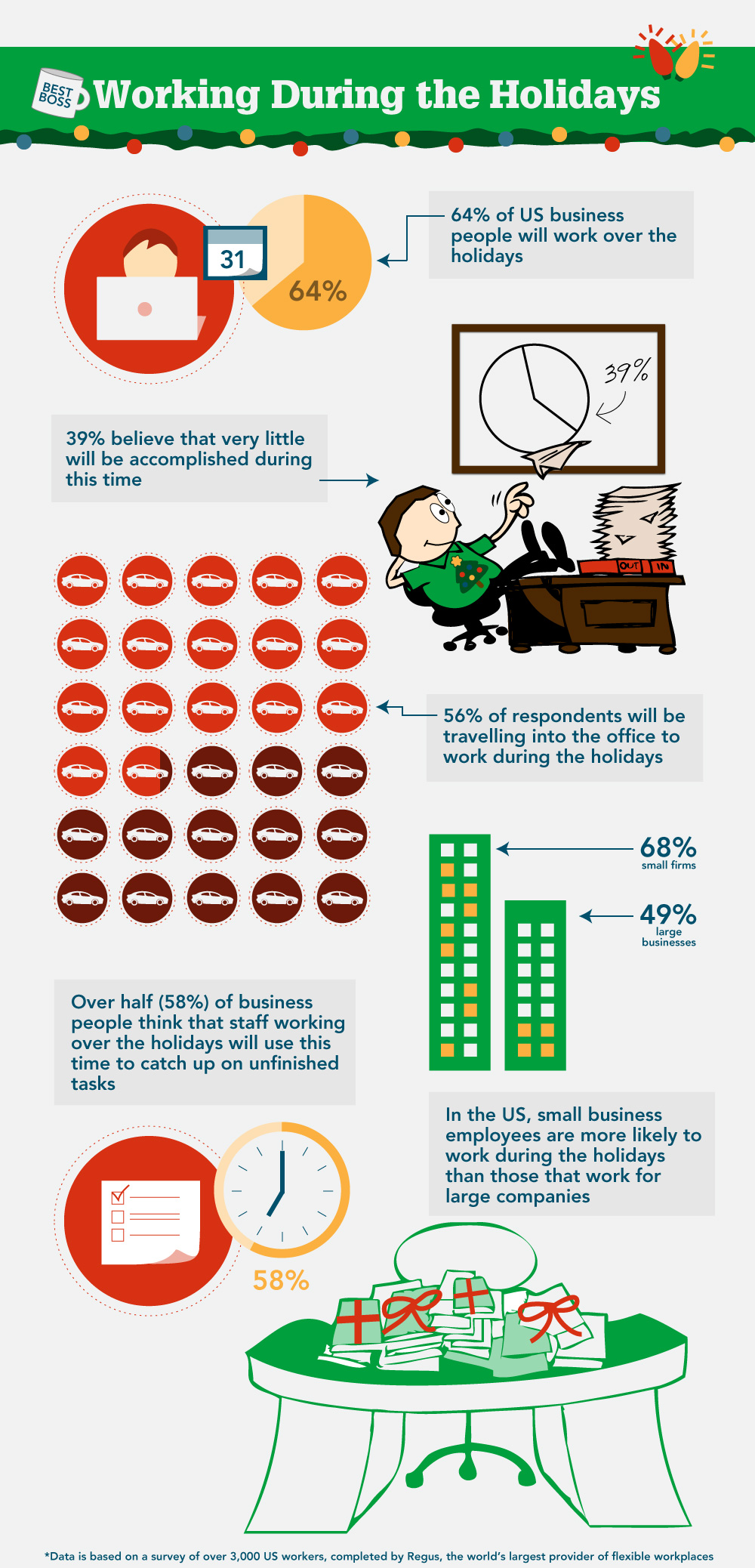 Well over half of US workers will work during the week between Christmas and New Year's Eve, yet two-fifths believe very little will be accomplished during this time. In a recent Holiday Productivity Survey, Regus, the world's largest provider of flexible workplaces, asked over 12,000 business people in 85 countries about their intentions to work during the end of year holidays. The survey reveals that although 56% of US business people will go in to the office, their levels of productivity are expected to be low, providing little value to their employers.
Key findings include:
64% of US business people will work during the last week of the year
Over half of US respondents working during this time (56%) will travel into the office to do so
39% of US respondents believe that workers will get very little done in this work time
Over half of US business people (58%) think that staff working over the holidays mostly tend to use this time to catch up on unfinished tasks
In the US, workers in small firms (68%) are more likely to work during this time than those in large businesses (49%)
According to Guillermo Rotman, CEO Americas, Regus: "Economic uncertainty and a slow growth marketplace continue to put pressure on businesses to keep full steam ahead, so it is not surprising that workers plan to use this time to catch up on unfinished work. But are workers choosing to power through the break really producing the best value for their efforts? Many managers believe that time off with the family can give employees a refreshed outlook and a chance to decompress before returning to work."
Rottman added, "For those employees that plan to work over the holidays, a flexible office space may help improve productivity and decrease commute time and time away from the family. Whether you're visiting relatives and need a professional environment to hold a conference call, or have an important proposal to write and need time away from home, a flexible workspace is the perfect solution for employees that need to put in those office hours before year end."
About Regus
Regus is the world's largest provider of flexible workplaces, with products and services ranging from fully equipped offices to professional meeting rooms, business lounges and the world's largest network of video communication studios. Regus enables people to work their way, whether it's from home, on the road or from an office. Customers such as Google, GlaxoSmithKline, and Nokia join hundreds of thousands of growing small and medium businesses that benefit from outsourcing their office and workplace needs to Regus, allowing them to focus on their core activities.
Over 900,000 customers a day benefit from Regus facilities spread across a global footprint of 1,200 locations in 550 cities and 92 countries, which allow individuals and companies to work wherever, however and whenever they want to. Regus was founded in Brussels, Belgium in 1989, is headquartered in Luxembourg and listed on the London Stock Exchange. For more information please visit: www.regus.com