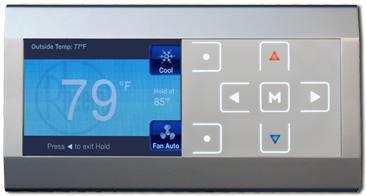 FORT SMITH, Ark. - Rheem expands its impressive line-up of high-tech serial communicating products with the attractive, new Rheem Comfort Control² SystemT High Definition Serial Communicating Thermostat. The slim-line, one-half inch thin designer-styled thermostat makes a fashion statement while packing impressive features such as advanced diagnostics, auto-configure capabilities and complete system customization into a slender profile.
"The Rheem High Definition Thermostat is an attractive, feature-rich addition to our line of Comfort Control² System products, offering numerous benefits to both Contractors and homeowners," said Adam Schuster, Rheem product marketing and development manager. "Rheem constantly looks for ways to make Contractors' jobs as uncomplicated and efficient as possible; the Rheem High Definition Thermostat does that by simplifying system installation, service and diagnostics."
USB upload capabilities make it easy for Contractors to program the thermostat to custom-fit the requirements of any homeowner. Pre-programming controls can be downloaded and saved on any USB drive. After installing the thermostat, Contractors can quickly upload programming settings and contact information, which are displayed along with error and "Call for Service" messages.
Suitable for new construction and most retrofit applications, the Rheem High Definition Thermostat is designed for easy wiring. This new Rheem thermostat uses a simple two or four wire connection between the indoor and outdoor unit. Once the system is connected and energized, auto-configure capabilities allow the system to automatically adjust settings resulting in a fast and easy installation.
The Rheem High Definition thermostat is compatible with all Comfort Control² System products, including the new Rheem Geothermal Heat Pump. The new Rheem High Definition thermostat allows homeowners to enjoy the full benefits of a Rheem product equipped with an electronic active protection Comfort Control² System. One of the leading innovations of the Comfort Control² active system protection system features up to 50 diagnostic and operational status codes and quick on-site read-out reporting of operating history. These codes enable Contractors to save time on fault diagnosis and repairs by providing an accurate assessment of operating conditions and system component performance.
While the High Definition Thermostat is designed to be Contractor-friendly, it also offers numerous homeowner benefits including:


Active Protection - If Comfort Control² System detects undesirable operating conditions, it will take the system offline to protect against catastrophic unit damage - saving time, money and downtime

Color-Coded Alerts - Yellow alerts remind homeowners of regularly scheduled maintenance, such as filter changes, while red alerts indicate an operating issue with a "Call for Service" prompt and display showing Contractor contact information

Humidity Control - The thermostat offers humidification and dehumidification to maintain a set relative humidity for optimum home comfort.

Intuitive Programming - Intuitive programming controls allow homeowner to easily customize temperature programs for all seven days of the week on one screen

Customization Options - Style-conscious homeowners can choose from two fashionable faceplates and five display color backgrounds

For more information, please visit Rheem.com.