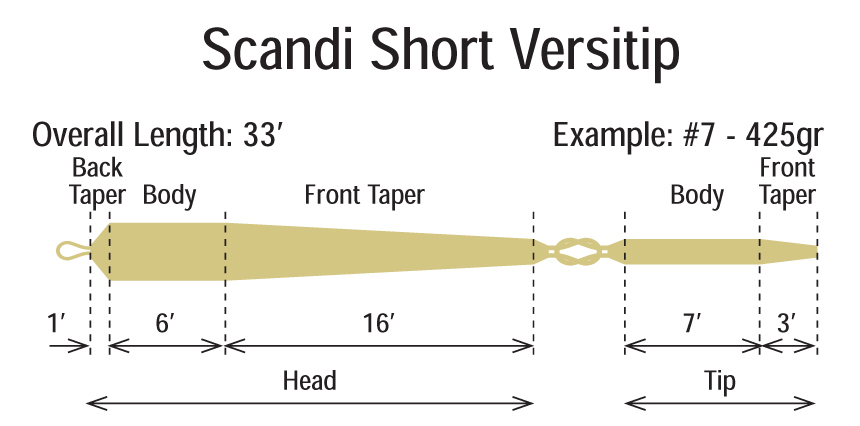 (Idaho Falls, Idaho) - RIO Products, manufacturer of fly lines, leaders and tippet material, is excited to bring anglers the easy-casting Scandi Short VersiTip - a powerful shooting head that was designed for spey casting on smaller rivers and with obstructions close behind.
Manufactured with a deep-loading body and long front taper, this incredibly easy casting head throws effortless, tight loops that turnover beautifully. Initially designed for Great Lakes tributaries, but ideal on coastal streams and smaller rivers anywhere, the head comes packaged with four different 10 ft long tips; a floating tip, an intermediate tip, and a type 3 and type 6 density compensated sinking tips. The short tips ensure that anglers can fish narrow runs and in tight situations with unbelievable ease.
The 23 ft long body combines Skagit power with Scandi grace and easily has enough muscle to turn over T-8, T-11 and T-14, as well as MOW tips of the appropriate size. Though the overall length of 33 ft works exceptionally well on switch rods and short, modern spey rods, it is also an excellent tool for the single handed rod fly fisher. However, anglers should note that the head weights are based on the Spey AFTTA standard, and using a head three sizes lighter than the single handed rod is strongly recommended (use a #5 Scandi Short VersiTip on a #8 single handed rod).
The heads are available in sizes #5, #6, #7, #8 and #9 and, with a manufacturer's suggested retail price of $119.95, are available from any authorized RIO dealer. A short video of how to use these heads can be viewed at this
link.
About RIO Products:
RIO is a pioneer in developing fly lines, leaders and tippet material to enhance fly fishing experiences across the globe. Offering premium fly lines for both freshwater and saltwater fishing applications, RIO consistently utilizes field experience and scientific testing to create the best products on the market for anglers. Founded 20 years ago in the mountains of Idaho, RIO continues to develop innovative products, design revolutionary tapers and refine performance-driven fly line technologies. For more information about RIO Products, please visit www.rioproducts.com.