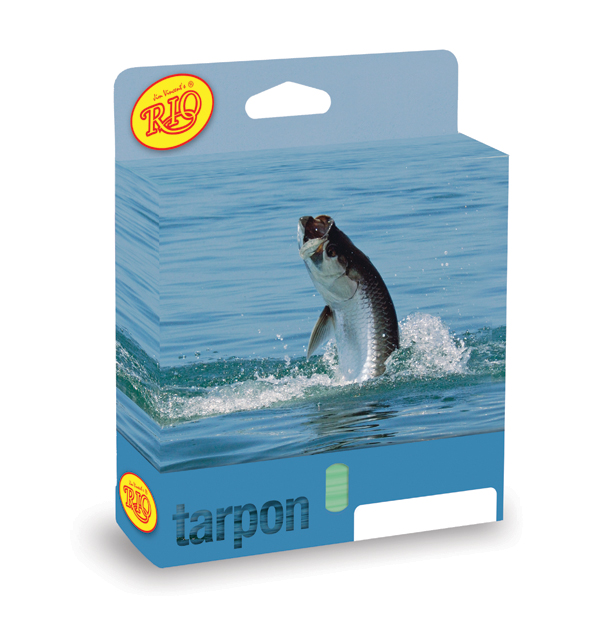 (Idaho Falls, Idaho) – RIO Products is proud to announce the release of an incredibly easy casting fly line for the tarpon angler. Loading modern tarpon rods is a challenge for most fly fishers, and coping with typical saltwater winds usually adds to the problem. The new Tarpon F/I Short fly line excels at both - loading rods deeply and providing a powerful punch that will turnover a fly in most winds. There is no better line for targeting moving fish such as tarpon or permit.
The Tarpon F/I Short is an incredibly easy loading, fast-casting fly line that gives anglers huge advantages when chasing fish on the move. The short head of 30 feet, along with a short rear taper, loads rods instantly and makes often-necessary one-shot casts with ease. A clear 10-foot intermediate tip works incredibly well on windy days, keeps the fly a touch deeper thanks to a sink rate of 1.5-2.0 ips and provides stealth when pursuing wary species.
Each of the three line weights, WF10F/I, WF11F/I and WF12F/I, are 100 feet long and have a 10-foot long clear tip with a sea-grass colored head and sand floating running line color. These lines feature RIO's tropical AgentX coating, and are made with XS Technology for durability and smoothness when casting. A medium-stiff core ensures the line will not wilt in the heat, and welded loops on both ends makes it easy and fast to rig. The line has a MSRP of $79.95 and is available from RIO dealers.
About RIO Products:

RIO is a pioneer in developing fly lines, leaders and tippet material to enhance fly fishing experiences across the globe. Offering premium fly lines for both freshwater and saltwater fishing applications, RIO consistently utilizes field experience and scientific testing to create the best products on the market for anglers. Founded 20 years ago in the mountains of Idaho, RIO continues to develop innovative products, design revolutionary tapers and refine performance-driven fly line technologies. For more information about RIO Products, please visit www.rioproducts.com.
###