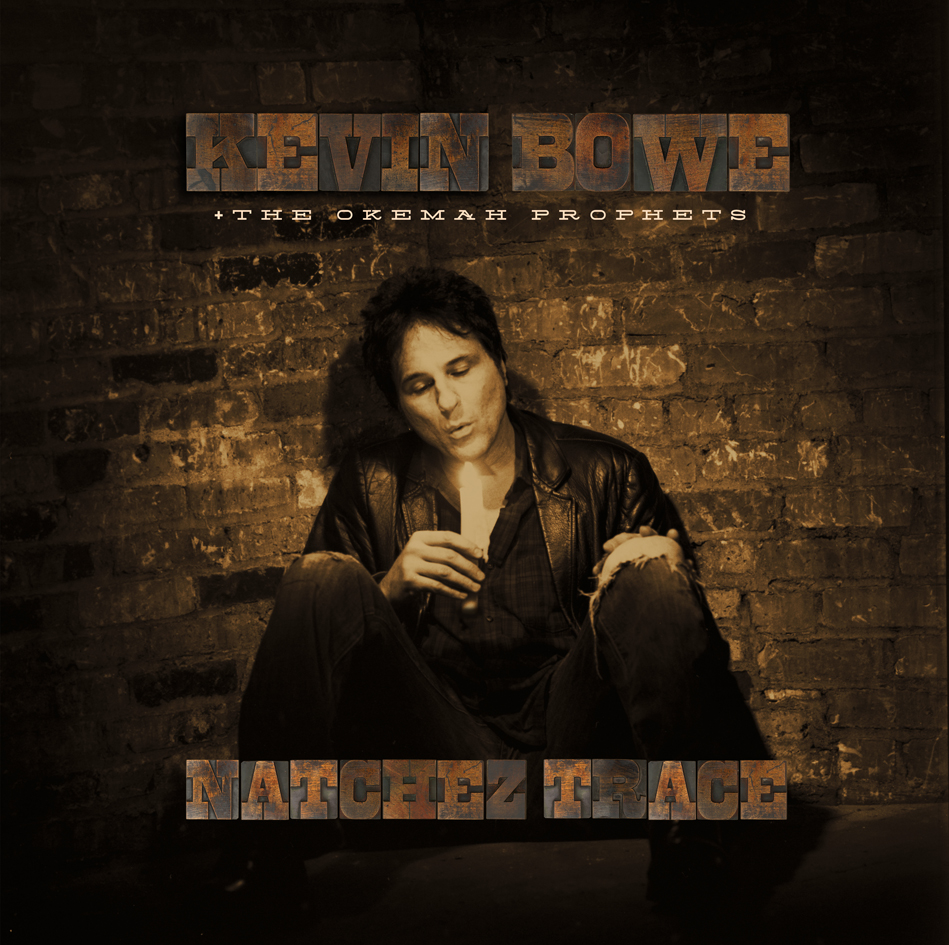 On June 8, 2012, Kevin Bowe and his band The Okemah Prophets, featuring Peter Anderson (The Honeydogs) and Steve Price (ELNo), will release Natchez Trace--his first full-length album of original material in over a decade. Natchez Trace is a sweeping panorama of Tom Petty-style hooks on tracks like "Haven't You Heard," along with some very inspired ballads. Bowe and Paul Westerberg (The Replacements) collaborated to write "Everybody Lies," one of many great musical moments on the record. Also included are a blistering cover of John Lennon's "I Found Out" alongside a hippie-riffic take on Spirit's "Nature's Way".
Natchez Trace draws you deep into its stark, haunting beauty, and the musical performances behind the songs make you take notice. Westerberg, Nels Cline (Wilco), The Meat Puppets, Johnny and Molly of Communist Daughter, Tim O'Reagan (The Jayhawks), Ben Lubeck (Farewell Milwaukee), Chuck Prophet, Freedy Johnston, and Phil Solem (The Rembrandts) all make stellar appearances. Scarlet Rivera (violinist on Bob Dylan's Desire and his Rolling Thunder Revue tour) adds a gypsy hurricane flair to the track "In Too Deep".
This record has been five years in the making due to an overbooked schedule, a little bit of OCD, and the fact that there was no compelling reason to rush it. The musicians on Natchez Trace are Bowe's friends and collaborators who were passing through during that time. After a dozen years spent making music for others, this is a true vanity project, made purely for the sake of itself and the songs on it.
Natchez Trace will be set free on June 8, 2012 at a double-header CD release show at the legendary Varsity Theater with soul songstress Alison Scott, who will be releasing her new CD the same night. An ensemble of some of the region's finest musicians will be in the supporting line-up, including Johnny Solomon and Molly Moore of Communist Daughter, Desdamona, Ben Lubeck of Farewell Milwaukee, The Laurel String Quartet, Elisa Wright of Galactic Cowboy Orchestra, and folk singer/songwriter Ellis. Proceeds from the concert will benefit Twin Cities music nonprofit Rock the Cause (irockthecause.org).
Tickets go on sale 4.18.2012 at http://www.varsitytheater.org/
To download or stream tracks from Natchez Trace visit related links to the right of this release.
Natchez Trace Track Listing:
1. Haven't You Heard (Alison Scott harmony vocal)
2. Fallen Satellites (Alison Scott harmony vocal)
3. Long Goodbye (Communist Daughter harmony vocals)
4. In Too Deep (Scarlet Rivera violin solo- from Dylan's Desire album and Rolling Thunder Revue tour)
5. Everybody Lies (written with Paul Westerberg, guitar solo by Nels Cline from Wilco )
6. Just Restless
7. Waitin' For The Wheel To Turn (guitar solo by Chuck Prophet)
8. LA Dogs (Freedy Johnston harmony vocal)
9. Devil's Garden (Freedy Johnston harmony vocal, Meat Puppets on guitar and banjo)
10. Gutters Of Paradise (Freedy Johnston harmony vocal)
11. My Favorite Pain
12. I Found Out (John Lennon cover)
13. Every Little Bit Hurts
14. Nature's Way (Tim O'Reagan harmony vocal, "Spirit" cover)
15. Power Trip
Kevin Bowe came of age in the early '80s Minneaplis punk scene, opening for The Replacements and Husker Du, the kind of music that forged his way of thinking for life. He made his mark as a songwriter first, selling over 12 million copies on three platinum records (and two Grammy-winning albums) for Jonny Lang, Kenny Wayne Shepherd, Etta James, Lynyrd Skynyrd, 3 Dog Night, and many others. His songs have appeared in dozens of films and TV shows including The Sopranos. Bowe played guitar on Paul Westerberg's last tour (Paul Westerberg and His Only Friends) and also recorded Westerberg's songs for the Open Season Sony film and soundtrack album. Bowe has also produced, engineered, and mixed everyone from The Meat Puppets to Communist Daughter, Freedy Johnston, and Chris Koza. He currently plays in Freedy Johnston's live band as well as with Alison Scott.
The Okemah Prophets Are:
Kevin Bowe- songs, guitar, vocals, producer
Peter Anderson- drums (also plays in The Honeydogs and Polara)
Steve Price- bass