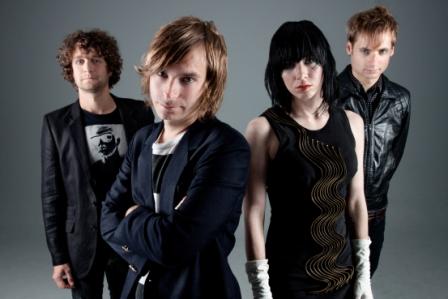 Minneapolis, MN--
"This record announced that there was a serious new power pop force in Minneapolis. Super fun, catchy songs with arrangements more sophisticated than you'd ever expect from a bunch of scruffy kids." --Ed Ackerson (Susstones Records, BNLX, Polara)
The Melismatics are celebrating the 10-year anniversary of their first album, Postmodern Rock, with a worldwide reissue on the band's own label, The Flight Simulator Recording Co. Postmodern Rock Deluxe Edition, released May 1st, features several bonus tracks including the new single "Missing Years." This reissue was remastered by Ryan Smith with a new re-imagined track order, and also includes several previously unreleased tracks from the original sessions. 50% of all digital sales of this album will be donated to Twin Cities music nonprofit Rock the Cause. The Melismatics will also donate $1 from every physical CD sale to this charitable organization they have worked with many times over the last several years.
Postmodern Rock was originally recorded at the turn of the century at the band's former guitarist Jeremy Ylvisaker's Soliton Studio. The Melismatics formed out of the creation of this album, and it contains performances from such Minneapolis musicians as Peter Anderson (The Honeydogs, Polara, Alison Scott), Jim Orvis (Romantica), Christopher McGuire (12 Rods, John Vanderslice), John Snell X and many others. Jeremy Ylvisaker is currently the guitarist for Andrew Bird and was instrumental in making this reissue possible.
The Melismatics' recent release Mania! on Pravda Records has continued to make waves nationwide, most recently being featured several times on MTV's Jersey Shore.
Track Listing:
1. Can't Relate
2. Learning to Walk Away
3. Like People
4. Turn the Inside Out
5. Speaking in Tongues
6. Better Days
7. Mir or Mirror
8. Laza Beam
9. Phase Shifta/Orbit Rate or Bit Rate/Phase Shifta Reprise
10. An Aluminum Place to Hide (Previously Unreleased)
11. Girl in Leather
12. Hey! Look At Me!
13. Moving Forward (Going Nowhere)
14. Sunny Day (Please Go Away)
15. Worlds Apart
16. Missing Years (2012)