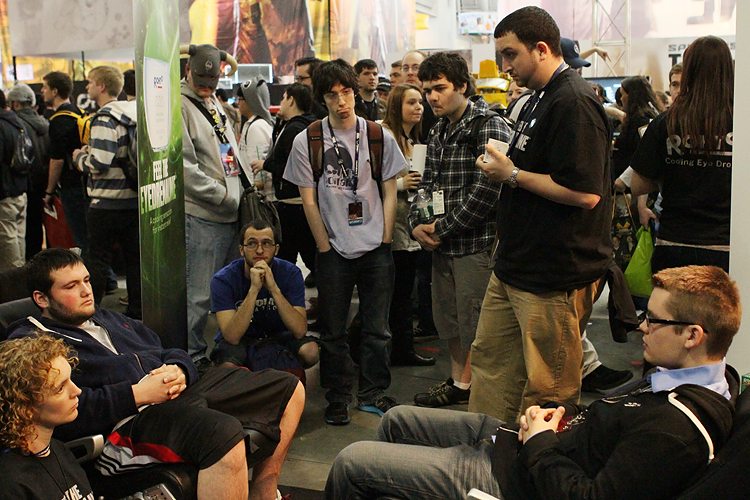 Orchard Park, N.Y. – April 17, 2012 – Did you know that people who stare at a screen for extended time actually blink less? Blink rates can slow to as little as six to eight times per minute—instead of the normal 16 to 20—causing dryness and a burning irritation feeling. To hear that makes the people at Rohto® Cooling Eye Drops cringe. So, the team at Rohto—which is distributed by The Mentholatum Company—headed to Boston earlier this month on a quest to instantly cool and lubricate the eyes of the more than 70,000 gamers in attendance at PAX East 2012.
Rohto® Eye Drops are popular among the 18 to 24-year-old demographic. However, this was the company's first official introduction to the gaming community. While at PAX East, gamers were encouraged to "Feel the Eyedrenaline™" by both sampling the product and feeling its intense cooling sensation, as well as participating in the Rohto 'Stare Wars' Competition.
Stare Wars pitted contestants against each other in a round robin tournament that lasted throughout the three days of the conference. Nearly 250 people took part in the contest, and after dominating the competition, 24-year-old Maxwell Morin of Old Town, Maine was named the grand prize winner. Morin won a total of 54 Stare Wars matches, staring for a total of three hours, one minute, and 55 seconds throughout the competition. Among his wins was the longest match of the weekend, which lasted for a whopping 38 minutes and 50 seconds before Morin's opponent finally blinked.
As the grand prize winner, Morin took home a $1,500 American Express gift card to cover expenses associated with attending PAX Prime in Seattle this summer. The second place winner, 18-year-old Jeremy Vousboukis of Framingham, Mass., took home a 50-inch television for winning 37 matches and staring for a total of one hour, four minutes, and 12 seconds. In addition, 10 runner-ups received $50 Game Stop gift cards.
John Lewandowski, who is the product manager for Rohto USA, says: "Gamers have an incredible ability to focus and can compete for many consecutive hours. Rohto is different from other eye drops because it provides a unique cooling sensation that is really soothing to an irritated eye. We hope that Rohto becomes a secret weapon in their gaming arsenal and can't wait to come back to PAX East next year."
In addition to the Stare Wars competition, attendees were able to stop by the Rohto booth for an instant redness-relieving pick-me-up and take away a free sample of Rohto® Cool Eye Drops to give them a competitive edge throughout the event. The brand ended up giving away about 30,000 samples total, encouraging people to keep their eyes in a healthy state to achieve maximum performance while gaming.
About Rohto Eye Drops: Rohto Cooling Eye Drops not only relieve redness, dryness and irritation, but also provide a special cooling sensation that helps "wake up" tired eyes. There are currently four types of Rohto Eye Drops: Rohto Hydra is specifically formulated to lubricate and provide long-lasting moisture for dry, irritated eyes with the closest hydration to natural tears, while also providing the brand's signature cooling "kick" called Eyedrenaline. Rohto Cool is a uniquely formulated eye drop that combines redness relief with a gentle cooling sensation and lubrication. Rohto Ice is used to relieve redness while also soothing itch, irritation and burn with an intense cooling sensation. Rohto Arctic revives strained, overworked eyes and relieves redness with a more intense "pick me up" sensation. For more information, visit www.myrohto.com.