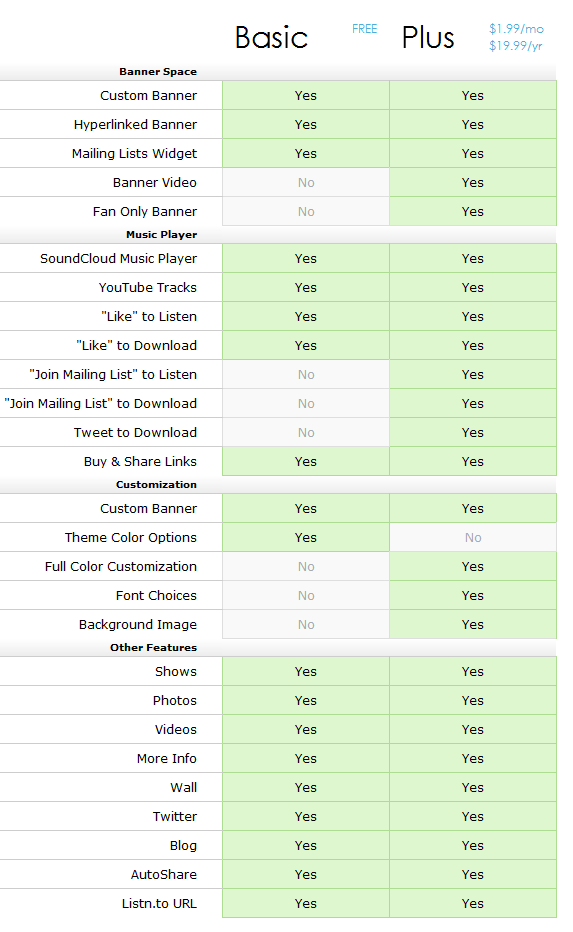 May 5th, 2011
San Francisco

RootMusic is proud to announce the release of a robust set of new tools available immediately to the 150,000 bands and musicians currently using BandPage, the #1 music app on Facebook with more than 22 million monthly active users. Both BandPage Basic and BandPage Plus have been upgraded to boost fan engagement and help musicians with their day to day needs. Bands now have the ability to incentivize users to "Like" their BandPage, exchange `Tweets' for downloads, as well as access more advanced design and banner customization.

Both editions of BandPage (Basic and Plus) are getting a significant upgrade. With BandPage Basic, musicians now have access to a free banner and color customization, mailing lists, hyperlinked banner, and `like to listen' functionality. BandPage Plus now offers a fan-only banner, banner video, and advanced gating options to do complex campaigns like `email-to-listen' or `tweet-to-download' for their newest track.

"One of our main goals is listening to BandPage users," said J Sider, CEO of RootMusic. "These updates represent all the things they have been asking for and so we built them. Having a strong presence on Facebook is essential for modern musicians, and BandPage offers them the tools they need to do just that. Now more than ever, musicians are making the move to BandPage. Every band or artist, whether in the long tail or in the Top 100, now has a professional home on Facebook for free"

BandPage, the #1 music and entertainment app, is adding thousands of bands per day and millions of new users every month. The reach is extensive with more than 50% of the top 100 artists on Facebook using BandPage as their tool of choice. The list of top-tier artists includes artists like Taylor Swift, Rihanna, Usher and Avril Lavigne, as well as legendary acts such as The Doors, AC/DC, Elvis and Miles Davis. Last week, My Morning Jacket released their new track exclusively via their BandPage using the `like-to-unlock' feature.

Check out the full feature comparison and new tools overview video on YouTube and get your BandPage started today!