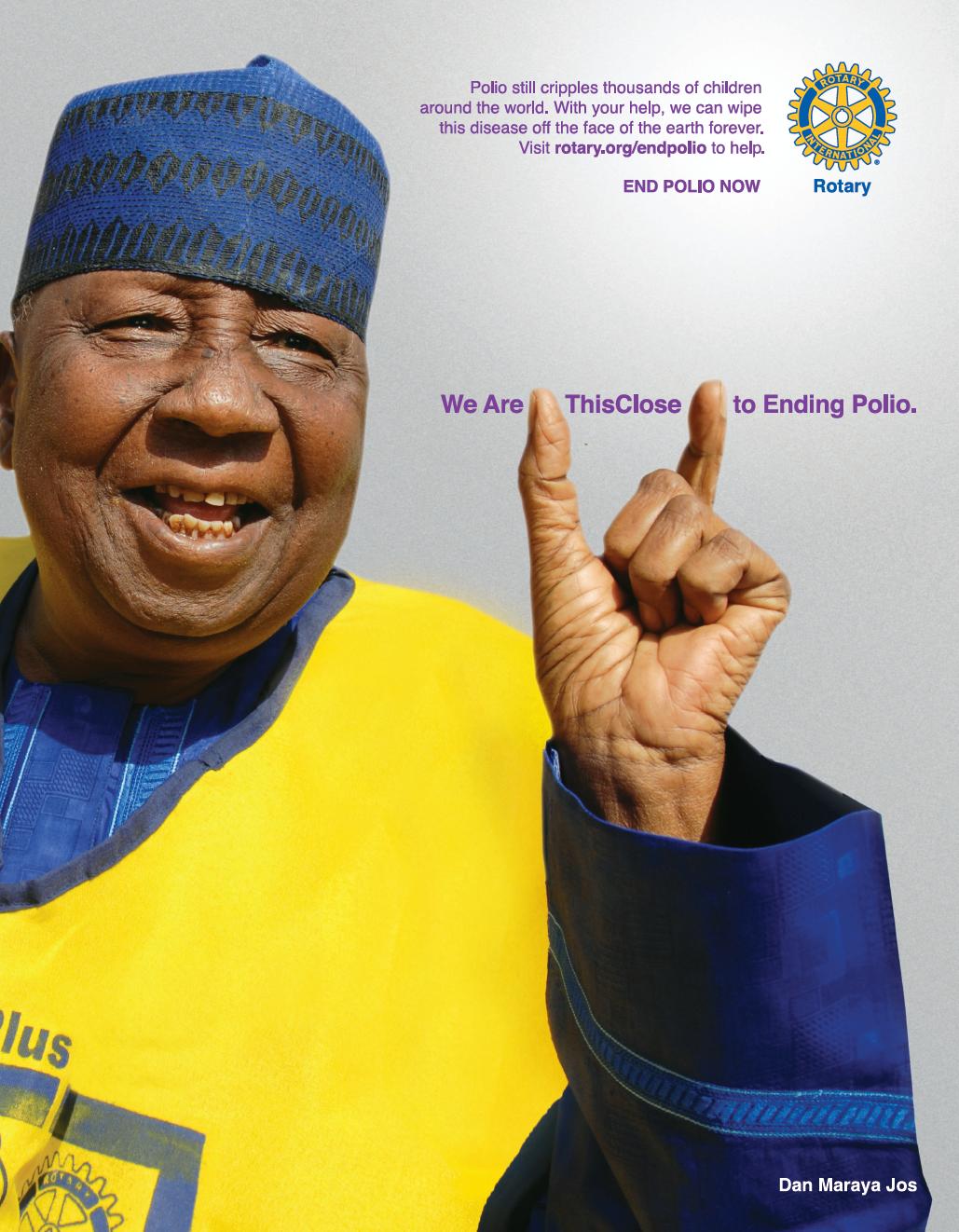 ABUJA/NIGERIA - A symbolic football yesterday received a rousing welcome at the National Stadium in Abuja to mobilize the public for the next massive polio immunization rounds on 24-27 April targeting 85 million children in 19 West and Central African countries.

In the lead-up to the FIFA cup in South Africa this summer, Rotary members in Nigeria and across Africa are gearing up for the final push to kick polio out of the continent.

"Polio cases in Nigeria are at an all-time low, with the country seeing just one case in 2010, and now is the time to make sure we sustain this progress. The arrival of the 'Kick Polio Out of Africa' ball is an opportunity for us to not only recognize Nigeria's progress, but also to renew our dedication to seeing the end of this disease in Africa, and worldwide," said Busuyi Onabulu, who chairs Rotary's PolioPlus Committee in Nigeria. "The next national immunization days begin 24 April and the ball therefore arrived in Nigeria at a very opportune time."

The ball was signed by Minister of State for Health Alhaji Suleiman Bello in his first official assignment at a ceremony at the National Stadium in Abuja. In attendance were the new Emir of Dass Usman Bilyaminu, the Permanent Secretary in the Federal Ministry of Health Linus Awute, WHO representative Dr Muhammad Pate, and other government officials and dignitaries.

The campaign received a big boost earlier this month from national football team captain Nwankwo Kanu announcing that he had two goals for 2010: Kanu wants Nigeria to shine at the upcoming World Cup and also wants to eradicate polio from Africa.

"I've scored many goals for my country," the 33-year-old striker, who plays in the English premier-league club Portsmouth F.C., says in a series of TV and radio spots which will soon be airing across Nigeria. "But there's still one goal I want to score: I want to kick polio out of Nigeria."

On 23 February, Rotary launched its "Kick Polio out of Africa" awareness campaign with the symbolic kicking of a ball signed by Emeritus Archbishop Desmond Tutu. Afflicted with polio as a child, Tutu joined the campaign as goodwill ambassador. From Cape Town, one of the host cities to the 2010 World Cup, the ball is traveling through 22 polio-affected countries to Egypt, en route to the Rotary International Convention in Montréal, Canada, in June. The journey is being underwritten by DHL Express.

Nigeria is the only country in Africa that has never stopped polio transmission. Because viruses do not observe man-made borders, previously polio-free countries remain at risk due to international travel and migration. Following a 2008 outbreak in northern Nigeria, the virus spread into neighboring countries and as far as Angola, Mauritania and Kenya. Of the total 735 polio cases in Africa in 2009, 388 cases were recorded in Nigeria.

However, successful immunization campaigns now have Nigeria on the cusp of making history. This year, only one case of polio has been reported so far, according to the World Health Organization.

During the ball's four-month journey from the southern tip of the continent to Alexandria, Egypt, Rotary clubs in polio-affected African countries are organizing football-related awareness events to mobilize the public for Pan-African mass immunizations this spring.

Former South African President Nelson Mandela, in his 1996 address at the Organization for African Unity Summit, formally kicked off the "Kick Polio out of Africa" campaign. He declared: "We are calling on the continent's football players to bring their enormous influence to this campaign. Only unified efforts which galvanise whole societies towards these goals will succeed in kicking this virus, that looks so much like a football, out of Africa and eventually, out of the world."

Through an alliance with the African Football Confederation, leading players from across the continent have participated in the "Kick Polio out of Africa" campaign by distributing posters, conducting radio interviews and holding autograph sessions.

Polio eradication has been Rotary's top priority for more than two decades. The international humanitarian service organization is a spearheading partner in the Global Polio Eradication Initiative, along with the World Health Organization, the U.S. Centers for Disease Control and Prevention, and UNICEF.

Rotary recently pledged to raise US$200 million to match $355 million in challenge grants from the Bill & Melinda Gates Foundation. All of the resulting $555 million will be spent in support of eradication activities.

Great progress has been made, and the incidence of polio infection has plunged from about 350,000 cases in 1988 to fewer than 2,000 in 2009. More than two billion children have been immunized in 122 countries, preventing five million cases of paralysis and 250,000 paediatric deaths.

Football fans can follow the ball's African journey on this blog http://kickpoliooutofafrica.wordpress.com

For video and still photos go to: www.thenewsmarket.com/rotaryinternational

For more information contact Sandra Prufer at: +1 847 866 3208, sandra.prufer@rotary.org

###

About Polio
Polio is a crippling and potentially fatal infectious disease. Polio (poliomyelitis) still strikes children, in countries in Africa, Asia, and the Middle East. Polio can cause paralysis and sometimes death the paralysis onset advancing within hours and almost always being irreversible. Because there is no cure for polio, the best protection is prevention. For as little as US$0.60 worth of vaccine, a child can be protected against this crippling disease for life. Historically, polio has been the world's greatest cause of disability. According to health experts, more than 10 million children will be paralyzed in the next 40 years, if polio isn't eradicated.


About Rotary
Founded in Chicago in 1905, Rotary is a worldwide organization of more than 1.2 million business, professional, and community leaders. Members of Rotary clubs provide humanitarian service, encourage high ethical standards in all vocations, and help build goodwill and peace in the world. There are 32,000 Rotary clubs in more than 200 countries and geographical areas. Rotary club members worldwide have contributed more than $900 million and countless volunteer hours to the effort and are now working aggressively to raise the $200 million needed to match the Gates Foundation grants. To learn more about polio eradication, including how to participate in this historic effort, visit www.rotary.org/endpolio.